A Practitioner Severely Beaten, Forced to Promise Not to Go out of Town Without Permission and Not to Assembly Before And During Olympics (Photo)
(Clearwisdom.net) On July 9, 2008, at about 10:00 p.m., a twenty to thirty-person swat team from the Shandong Province Mengyin County Police Department's 610 Office, the Duozhuang Town local police station, and the Duozhuang Town Chinese Communist Party Government stormed into a duck farm where practitioner Ms. Qi Chengrong of Xiduozhuang Village, Duozhuang Town, was working, and illegally arrested her.
Others arrested that evening included Mr. Liu Mingxin, from Chengjiazhuang Village, who is a member of Dongduozhuang Village practitioner Mr. Liu Changshun's family, and Wang Moujun from Waziping Village.
Later that evening, in a room in Duozhuang Town Judicature Bureau, Gong Maoli, the Duozhuang Town assistant deputy secretary, personally ordered Wang Yanzhong, the Duozhuang Township construction director, and the Duozhuang forestry stationmaster, and others, to turn off the lights and beat the detained practitioners with rubber clubs.
Ms. Qi Chengrong spoke up and told them that beating people is a violation of the law. Gong Maoli replied, "Beating you does not violate the law." While he was saying this, he started slapping Ms. Qi on her face. The other lawless ruffians in the room immediately knocked her to the ground, then beat and kicked her with a vengeance. At the same time, several rubber clubs were used on her arms and buttocks.
One captain told everyone, "Beat her buttocks." Someone shone a flashlight on Ms Qi's buttocks and then several hoodlums started hitting her with all their might. When they were completely exhausted from beating her, they turned on the lights.
The captain asked Ms. Qi, "You claimed you were beaten, but who beat you?"After a short rest, they turned off the lights again, and continued savagely beating her. To prevent her from screaming out in pain, they stepped on her throat with the soles of their shoes.
Afterwards, they dragged Ms. Qi to an open area where rain had accumulated on the ground. While she was laying there, they beat her until she was dizzy, vomiting, and had loose bowels.
In addition to her clothes being soaking wet with water, feces, and urine, her tormentors insisted on handcuffing her in that state until 9:00 p.m. the following day.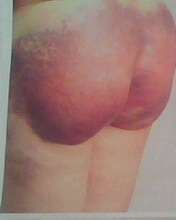 According to reliable sources, the Chinese Communist Party had arranged for the Olympic Games torch relay to pass through Linyi City (and later through Mengyin County on July 20), thus, the Linyi City 610 Office held a meeting on July 2, conspiring to persecute Dafa practitioners.
In addition to being brutally tortured, each practitioner was fined 5,000 yuan and forced to write the so-called "guarantee statement," which read, "Before and during the Olympic Games, I will not go out without permission or engage in any unlawful assembly." After that, they were all released.
On both days that the practitioners were detained, Liu Zhaoguo from the Police Department's 610 Office illegally interrogated Ms. Qi for hours.
Duozhuang Town government:
Hu Shoudong, secretary: 86-539-4568301 (Office), 86-13969901111 (Cell)
Gong Maoli, assistant deputy secretary
Yi Xifeng, deputy mayor
Zhang Dawei, mayor: 86-539-4588198 (Office), 86-539-4275240 (Home), 86-13954990386 (Cell)
Ma Yuliang, director of the Duozhuang 610 Office
Zhang Yuanxue, chief of the County Police Department: 86-539-4818801, 86-13705397128 (Cell), 86-539-4818901
County Police Department 610 Office:
Li Baoyuan, director: 86-539-4811681, 86-13953958936 (Cell)
Sun Shuai, assistant director: 86-539-4811681, 86-13173095056 (Cell)
Wang Wei, ruffian from the Mengyin County Police Department 610 Office: 86-13563979797 (Cell)