Taipei, Taiwan: Practitioners Mark Nine Years of Persecution in China on July 20 (Photos)
July 26, 2008 | By Minghui correspondent Zhou Rong
(Clearwisdom.net) On the afternoon of July 20, 2008, a hot summer day of 35oC (95oF), Falun Gong practitioners in yellow T-shirts were busy setting up a display on Xinyi Square near Taipei 101, a landmark building in Taipei, Taiwan. Yellow banners reading "Falun Dafa Free Workshop" and "Call for Conscience. Stop Persecution" radiated in the sun. Photo displays were set up and a re-enactment of the tortures that Falun Gong practitioners have been subjected to showed Falun Gong practitioners' unyielding spirits and sacrifice in safeguarding their belief while facing the Chinese Communist Party's (CCP) brutal persecution.
Falun Gong exercise demonstration on Xinyi Square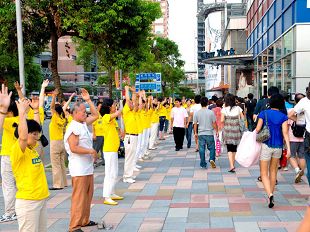 Falun Gong exercise demonstration at Xinyi Shopping District
Since July 20, 1999, when the CCP began slandering Falun Gong and launched a overwhelming and frenzied persecution of the practice, Falun Gong practitioners have continually stepped forward from their self-cultivation to clarify the truth using parades, exhibitions, distribution of fliers, and other formats. During the past nine years, they have been calling for justice and steadily moving closer to their goal, the end of persecution.

Passersby can't believe the CCP use such torture on people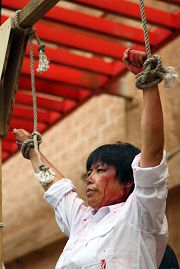 Torture re-enactment exposes persecution of Falun Gong by the CCP regime
Four Falun Gong practitioners were near the Xinyi shopping circle re-enacting the torture methods used during the persecution. They were covered with "blood," and some were hung up or tied. The tortures they depicted are only a tiny portion of the tortures actually used. A banner read, "People Pursuing Truth-Compassion-Tolerance in mainland China Are subject More Than One Hundred Types of Torture."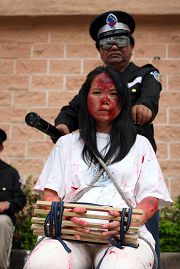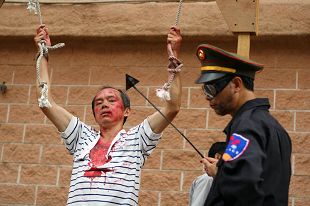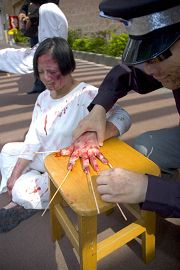 Torture re-enactment exposes persecution of Falun Gong by the CCP regime
This was the first time that Falun Gong practitioner Li Jinyan had taken part in the torture re-enactment. He was hung up by his hands and covered with blood-like thick paint on his chest. He said it wasn't easy to be hung for two hours on a hot summer day. But it is nothing compared to what Falun Gong practitioners in mainland China experienced. When he saw crowds of people watching him, his only thought was telling more people about the persecution, and his hands no longer felt numb. Instead, he was filled with compassion.
People were shocked by the cruel torture depicted. Some came to find out more and could feel the suffering of Falun Gong practitioners. Many said with emotion, "It is hard to believe such cruel things are still happening." They signed a petition to call for the end of the persecution.
Many children signed a petition
One photo showed the nine-year-long journey of Falun Gong, from its quiet beginning, to becoming well-known, followed by the disturbing persecution.
A father explains illustrations to his daughter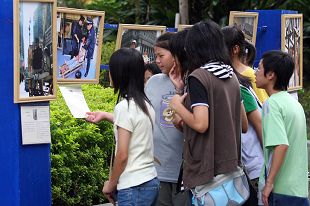 Students are shocked at the photos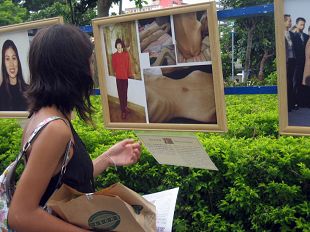 A local resident is shocked at the brutal persecution of Falun Gong practitioners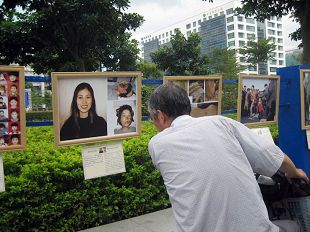 A local resident views the photos of disfigured Gao Rongrong
People saw the sharp contrast between the peace and beauty of cultivating Truthfulness-Compassion-Tolerance and the evil persecution by the CCP. Many read the photo illustrations carefully. Chinese Europeans Hua Zhong and Li Tianliang, who came to Taiwan to learn Chinese during the summer, stayed in front of the pictures of Gao Rongrong for a long time. Li, who would soon enter a medical school, said, "It is too cruel! No freedom of belief! I must not go to mainland China!" He was greatly disturbed upon hearing about the organ harvest targeting Falun Gong practitioners and kept asking "What can I do (to help)?"
Professor Zhou Jian carefully read the photo illustrations. He said there was persecution of kind people in every region and period of history, but he admired Falun Gong practitioners' courage to step out to expose the evil. He asked about the closing time of the exhibition and encouraged practitioners to continue.
Falun Gong practitioners have been exposing the persecution by word of mouth and fliers. On the afternoon of July 20, they collected many signatures to call for the end to the persecution.
People sign to call for end to the persecution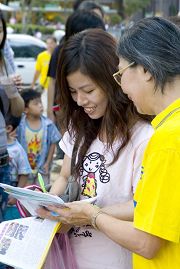 People sign to call for end to the persecution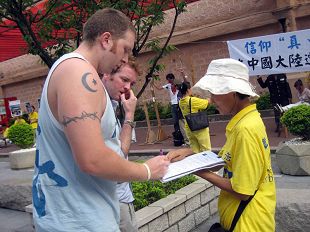 Westerners sign to call for end to the persecution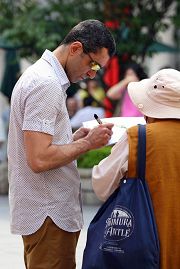 Westerners sign to call for end to the persecution
Most people signed to call for an end to the persecution after hearing the facts. Falun Gong practitioner Ms. Cao said many people didn't know such atrocity was still happening. She hoped the political VIPs in all countries would recognize the persecution of Falun Gong and help stop it.
Falun Gong practitioner Ms. Lin Jieru said more and more people had learned about the persecution and showed support for Falun Gong and the force of justice was quickly growing. She believed the CCP's days were numbered, and the persecution should not continue.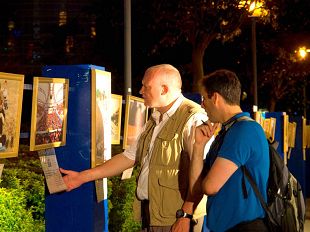 Photo exhibition, exercise demonstration and signature collection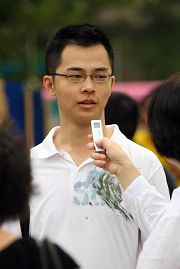 Zhang Zhiyang said his Falun Gong friends are good people and that the CCP should end the persecution.
Zhang Zhiyang came to join the activity because his friends practice Falun Gong. He realized how severe the persecution was after seeing the photos. He said that the CCP should stop persecuting people for their beliefs, and that his practitioner friends are good people.