(Clearwisdom.net) Representatives of the World Organization to Investigate the Persecution of Falun Gong (WIPFG), Epoch Times, and "Quit the CCP" Service Centers held a forum and press conference in Washington, D.C., on June 5, 2008. Spokespersons from the different organizations reported on the recent CCP-instigated incidents in New York in which mobsters attacked Falun Gong practitioners and the CCP-controlled Chinese language media misled the Chinese community, spreading lies to slander Falun Gong around the world through the Internet, video, and other channels in attempts to shift attention away from its own imminent collapse. Congressmen at the forum strongly condemned the CCP and asked the American government to expel the criminals involved.
(Clearwisdom.net) The Service Center for Quitting the Party recently returned to its original site in front of the Flushing Library, and set up four more service spots in the neighborhood. The New York Police Department (NYPD) is concerned about the assaults experienced by volunteers at the Service Center. Andrew Schaffer, NYPD's Deputy Commissioner for Legal Affairs, flanked by two NYPD legal affairs colleagues, said that the assaults cannot continue, and that NYPD will protect practitioners from attack.
(Clearwisdom.net) An AFP report June 5 discussed the recent attacks on Falun Gong practitioners in New York. Here are some excerpts:
"Two US lawmakers accused the Chinese government Thursday of instigating attacks on practitioners of the Falun Gong spiritual group in New York and called on Washington to lodge a protest with Beijing."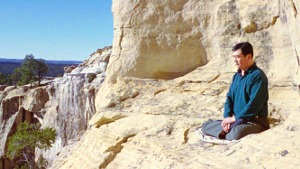 Master Li quietly watching the world from amidst the mountains after leaving New York following July 20th, 1999. (Published January 19, 2000)