Germany: Celebrating Falun Dafa Day in Munich (Photos)
May 21, 2008 | By Minghui/Clearwisdom reporter Dexiang
(Clearwisdom.net) On May 13, 2008, Falun Gong practitioners in the state of Bavaria held an activity at Marienplatz in the capital city of Munich, celebrating World Falun Dafa Day and the birthday of the founder of Falun Gong.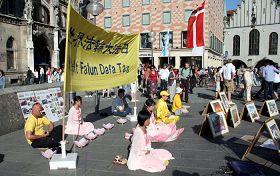 Falun Gong exercise demonstration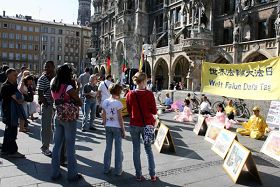 Falun Gong exercises demonstration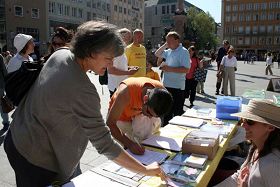 People signing a petition calling for an end to the persecution of Falun Gong in China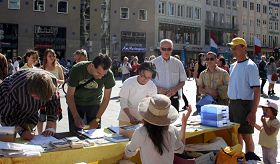 Signing a petition to support Falun Gong
Marienplatz is located in downtown Munich. The weather was beautiful, and the square was crowded. Many people were attracted by the beautiful Falun Gong music and exercise demonstration. They came to read posters displaying the spread of Falun Gong around the world and exposing the Chinese Communist regime's brutal persecution of Falun Gong. After learning more about Falun Gong and the persecution, many people signed a petition calling for an end to the persecution. There were also quite a few tourists from Mainland China. Some of them took photos, some came up to take Falun Gong leaflets and copies of the Nine Commentaries on the Communist Party, and some even announced their withdrawal from the Communist Party.
Practitioner Renate said, "I started practicing Falun Gong in 2003 and to read Zhuan Falun in 2004. After practicing Falun Gong, my physical and spiritual well-being improved significantly. Dafa helped me in various aspects. I had serious physical problems before, but now they are all gone. In dealing with other people, as well as many other aspects of life, I experienced much change and improvement. I am here at the Falun Dafa Day celebration today so that I can introduce the beauty of Falun Dafa to more German people. I also want to tell people about the ongoing persecution of Falun Gong by the Chinese Communist regime. I hope that more people from Mainland China can see the true nature of the persecution of Falun Gong and stand up to oppose this persecution so that China can have a beautiful future."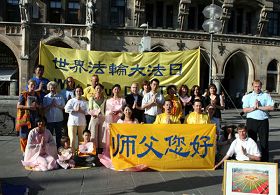 Falun Gong practitioners in the state of Bavaria respectfully wish Master happy birthday.