Malaysia: Falun Gong Practitioners Commemorate the April 25 Appeal (Photos)
(Clearwisdom.net) In commemoration of the events that took place on April 25, 1999, in which ten-thousand Falun Gong practitioners peacefully appealed and "clarified facts" with peace and rationality, and in order to protest the nine years of brutal persecution under the Chinese Communist regime, Falun Gong practitioners in Malaysia held an anti-persecution petition collection drive on April 26, 2008, at Taman Titiwagsa Park in Kuala Lumpur. They sought to expose the Chinese Communist Party's (CCP) persecution of practitioners' basic human rights.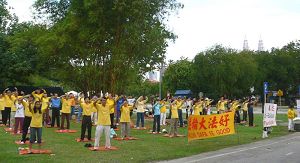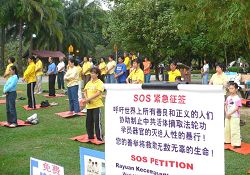 Falun Gong practitioners gathered beside the lake in Taman Titiwagsa Park for an exercise demonstration
Learning of the severity of this persecution, people who came to understand the facts signed the petition.
The activity began at 5:00 p.m. Aside from collecting signatures on the petition, the practitioners demonstrated the five sets of exercise by the lake in Taman Titiwagsa Park. The exercises, along with banners which read "Falun Dafa Is Good", "Falun Dafa Cultivation Way," and "SOS Urgent Petitions," attracted the attention of many passersby. Local people stopped in their steps to watch the beautiful exercise demonstration and learn the facts about the CCP persecution of Falun Gong.
Many people were shocked to learn about the persecution and felt much sympathy for practitioners' sufferings. They signed to support the anti-persecution petition. These benevolent people came from various ethnic backgrounds. Chinese, Malaysians, and Indians all wished this tragedy would end very soon.
Mr Cai, who is 63 years of age, said during an interview that he agreed that qigong (a traditional Chinese practice) can help improve physical health. He thought that, because Falun Gong is a form of qigong, the CCP should not being persecuting it. When asked about his impression of Falun Gong, he said that Falun Gong is a peaceful group. In order to express his support for an end to the persecution, Mr Cai also signed his name on the "Millions of Signatures" petition.
Local resident Ms. Murniwati works as a teacher. Hearing about the persecution of Falun Gong in China, she expressed much sympathy for the sufferings of practitioners under the Chinese Communist regime. Ms. Murniwati said that such an anti-persecution petition campaign was very meaningful, because any individual could voice his or her righteous support for human rights through this channel. She also expressed great support for the petition campaign and added her own signature.
Mr. Andrew from Kuala Lumpur is a military officer. When he heard of the persecution of Falun Gong practitioners in China, he said that if he were to be persecuted, he would stand up and revolt. Local practitioners of Falun Gong explained there are Falun Gong disciples and compassionate people all around the world who have continued to call for an end to the persecution, and that these people have used peaceful and non-violent means of protest, just like the activity in Taman Titiwagsa Park. Mr Andrew expressed his accord and signed the petition in support.