Swedish Professional Dancer: Chinese Traditional Dancing is More Advanced!
March 28, 2008 | By Clearwisdom reporter Shen Yong
(Clearwisdom.net) On March 20, 2008, the Divine Performing Arts successfully held the first Chinese Spectacular performance in Stockholm, Switzerland. Mr. Christer Svensson, a professional modern dance performer and producer, said that all of the performances presented by the Divine Performing Arts were more advanced than the modern dance from Europe. Furthermore, he pointed out that the content and the essence conveyed by the performance can show audience members the path to righteousness.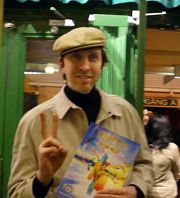 Mr. Christer Svensson pointed out that the content and the essence conveyed by the performance can show the audience members the path to righteousness
Chinese Traditional Dance is More Advanced!
Mr. Christer Svensson has choreographed many dances, and his performances have aired on television Channel 3 and Channel 4. After Mr. Svensson attentively watched the first half of the show, he praised, "I was very impressed by the rhythm of the performance. Of course I paid more attention to the dances in this show."
"For example, I noticed the coordination of hands and steps in dance movements. The movement of the hands account for many of the dance movements. It's especially interesting how they count their movements. In European dance we count movement in segments of eight. However, here dance is counted in twenty or about twenty, and it's more advanced."
There is a Very Magnificent Field
Mr. Svensson felt that the backdrop in "The Fruits of Goodness" was very magnificent and glorious. He said, "I like the combination of backdrop and performance. Especially in the performance where two people were enlightened by Buddha Statues ("The Fruits of Goodness"), Buddha Statues moved slowly and there was a very magnificent field."
The Performance Encourages People to Seek Justice
Mr. Svensson not only watched the artistic form of the Divine Performing Arts, he also felt the spiritual meaning that the artistic performances demonstrated. He said, "Especially meaningful were the performances designed to inspire every one of us to seek justice in the world. For example, the performance in jail (" The Risen Lotus Flower"), the Tibet dance ("Snowy Mountain, White Lotus"), and the lyrics and their messages displayed on the backdrop."
He has read the report by David Matas and David Kilgour ("A Report into Allegations of Organ Harvesting from Falun Gong Practitioners in China") He said righteously, "I believe that we should look beyond the economic benefits where such problems exist and instead view them from a standpoint of strong ethical standards. For example we know that worldwide encouragement and promotion of morality initiated by Mr. Li Hongzhi and Falun Gong represent a rising moral and ethical standard. Not from a political perspective but a personal responsibility, including you and me and everybody. We have responsibility. If those political leaders have not recognized this, we should remind them."