Marketing Manager: The Performance Comes from the Heart (Photo)
March 26, 2008 | By reporter Zhou Rong from Taibei
(Clearwisdom.net) For several days the Divine Performing Arts Chinese Spectacular has been delighting audiences in Taipei. On March 18, the performance ended amid loud applause. During the performance, the audience was captivated and afterwards, many people expressed high praise for the show. Among those who shared their positive impressions were artists, politicians, and businessmen.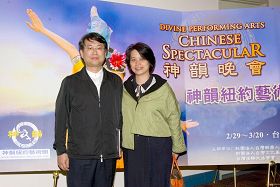 General Manager Huang Zirong (right) and Deputy General Manager Zhang Enliang (left) from the Xisi Media Integration Marketing Corporation
The general manager and deputy general manager of Media Integration Marketing Corporation took time out from their busy schedules to see the Spectacular. Both said that the performance was one that came from the heart and was very moving.
Huang Zirong saw the Chinese Spectacular performance for the first time and said that she found the dancers' bodies so supple, so gentle and their flying movements and display of feelings touched her very much. She was also amazed by their highly synchronized movements. As for the relationship between the music and dance, she used the words "absolute magic" to describe it.
A Performance from the Heart
Huang Zirong enjoyed the lively Tibetan maidens in "Snowy Mountain White Lotus." The dancers waved their long sleeves with soft and fluid body movements, so natural and devoid of pretense. She said, "The maidens' flying long sleeves looked like white waves in the clouds, mountains and sea. The visual effect was wonderful." She believed that the dancers were only able to do that because they performed from the bottom of their hearts.
Ms. Huang firmly believes that "a true man should do everything from his heart," and she found that to be the spirit of the Divine Performing Arts dancers. She felt that these performers who grew up outside of China perform from their hearts and reveal truth and genuine happiness.
Feeling Nothing But Moved
Zhang Enliang could feel that the Chinese Spectacular is making a great effort to carry on Chinese culture through artistic performance. He especially enjoyed the dance "Victory Drums," which he found deeply stirring.
He also said that the message of justice and kindness that was conveyed by the dance, "The Power of Awareness" is something that people in modern society are lacking. "But the power of the masses could really correct and adjust incorrect and evil things," he stated.
Zhang suggested that the performances of the Chinese Spectacular should be held even more widely. Before leaving, he said that he felt nothing but moved.