New York: Truth-Compassion-Tolerance Art Exhibit Opens in Schenectady (Photos)
February 25, 2008 | By a Falun Gong practitioner in North America
(Clearwisdom.net) A reception for the Truth-Compassion-Tolerance Art Exhibit at Proctor's Theatre in Schenectady, New York, was held on the evening of February 15, 2008. Well-known artists and enthusiasts attended the exhibit. There was praise for the serenity conveyed by the paintings as well as exclamations of dismay at the portrayals of the Chinese Communist Party's brutal persecution of Falun Gong. Viewers said the exhibit made them cherish their freedoms even more, and several wanted to learn more about what is happening in China.
The exhibit, which opened January 18, will continue until through February 29 and is part of a series of celebratory activities held at the theater around the Chinese New Year. More than 20 paintings by Falun Gong artists were on display, with the main theme expressing the peaceful spirit of Falun Gong practitioners and their dealing with the persecution in China.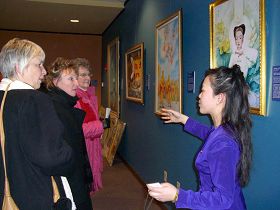 Artist Chen Xiaoping explains the paintings to guests
Proctor's Theatre poster designers Peter Hughes (left) and Richard Lovrich (right), and market director Kathy Javis (middle) at the exhibit
Proctor's Theatre backs exhibition despite interference
Poster designers Peter Hughes and Richard Lovrich, who work at the theater, are passionate about art. They introduced the Truth-Compassion-Tolerance Art Exhibit to Proctor's Theatre. They attend many art exhibits each year and had seen the Truth-Compassion-Tolerance exhibit in New York City once before. They were deeply impressed and touched by Falun Gong practitioners' resilience as depicted in the paintings.
Mr. Hughes said that he had a real desire to bring this art exhibition to this city. "This art exhibition includes the work of many painters with many different styles. We hoped we that could provide a venue to exhibit these very beautiful, wonderful paintings. What the theater did is to let others know, to let everybody make their own judgment."
Mr. Lovrich, who has lived in Manhattan for many years, said, "I was truly impressed that so many Chinese artists painted in the European style so successfully."
Because the paintings directly expose the atrocities the Chinese Communist Party is committing against Falun Gong practitioners, the Chinese consulate harassed theater officials many times, attempting to coerce the management into canceling the rental agreement with the exhibit sponsors. The theater's marketing director, Kathy Javis, said, "One of our missions is to provide a platform for people to get all kinds of information. We will not censor. We will leave it up to the people to decide for themselves. We are prepared and will not be interfered with, because we have our own standards."
Sculptor Zhang Kunlun recounted during the opening reception the various tortures he had suffered in a Chinese prison for believing in "Truth-Compassion-Tolerance." He said all the paintings are based on true events.
Insert photo
Marketing director Kathy Javis (right) holding a scroll with the words "Truth-Compassion-Tolerance." Calligrapher Liu Baochun (left) created the scroll.
Kathy Javis was quite touched by the stories behind the paintings and asked sculptor and calligrapher Liu Baochun to write the words "Truth-Compassion-Tolerance" for her. She commented, "I knew nothing about Falun Gong and the persecution before. Today, after hearing the artists' own stories, I have learned about Truth-Compassion-Tolerance, and I feel that is what I want." She said she would frame the scroll and hang it at home. She also purchased a reprint of a painting.
Ann Panillo, a ten-year veteran as a TV hostess, said, "The paintings and sculptures are exquisite and showcase the artists' great skills. I learned more about Falun Gong. In some places you don't have freedom of expression and you are not even allowed to do simple exercises. It's really sad!"
She added, "In a totalitarian country, the government has too much power and does things against the human conscience. I cherish my freedom even more now that I have attended this exhibit."
She noticed similarities between the persecution of Falun Gong and the genocide of the Jews by Nazi Germany. She mentioned that people remained silent back then, as they are doing now. The Jews were innocent, only one person - Hitler- ordered the massacre, while in China, former president Jiang Zemin single-handedly launched the persecution.
Insert photo
Photographer Nicole Kampon reading a Falun Gong book immediately after purchasing it.
Photographer Nicole Kampon praised the method, the style and technical brilliance of the paintings. She was shocked by the barbarity of the persecution depicted in the paintings, "I wanted to know what's going on, so I came to the exhibit. I feel saddened. Those women were tortured in prison for their belief." She bought Falun Gong books at the exhibit and immediately started reading one of them.
Retired computer programmer Ronald, a New York native, said he knew a few things about Falun Gong and was aware of the persecution, "It's meaningful to learn about it today from people who experienced it firsthand." He video-recorded the paintings because they were special to him.
Commented Ronald, "Every art exhibit is different, but it's rare to see one from the East. Some paintings [here] are very realistic and beautiful, which impressed me deeply. It's a different style of art."
As stated on the theater's website, "Since 1926, Proctor's Theatre, a historic, beautifully restored theatre located in the heart of downtown, has presented the very best in entertainment for New York's Capital Region. Proctor's Theatre is listed on the National Register of Historic Places. Each season, Proctor's Theatre presents world-class singers, side-splitting comedians, electrifying dance programs, wonderful classical productions, including opera and symphony orchestras, and our forte, top-notch touring Broadway musicals."
The celebratory activities held at the theatre between February 15 and 17 included this art exhibit as well as the Chinese New Year Spectacular by the Renaissance Performing Arts.