New Yorker: "This Is the Best Show I Have Ever Seen in My Life!" (Photos)
February 02, 2008 | By Minghui correspondent Shu Jing
(Clearwisdom.net) The second showing of the Chinese New Year Splendor by the Divine Performing Arts at Radio City Music Hall in New York took place on January 31, 2008. Moved by the profound meaning of divine Chinese culture, audience members had high praise for the magnificent backdrop and consummate performances.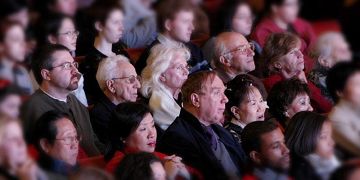 Audience members absorbed by the show
Martme Zippfel, in her seventies, said during intermission, "Gorgeous! Beautiful backdrop!...This is the best show I have ever seen in my life! I really appreciate the opportunity to see such a show!"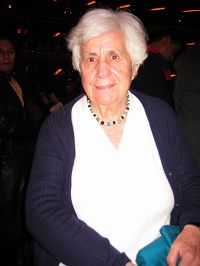 Martme Zippfel
Roberta Bentley and her husband, Michael Bentley, spoke glowingly of the show. Roberta enthused, "I loved the show very much, especially the Chinese dances." Michael said, "I loved it, too! I loved everything about the show." Michael traveled to China with his family two years ago and took many pictures in Beijing, Shanghai, Hong Kong, and Qingdao. He is very fond Chinese culture. He learned a great deal about Chinese culture by seeing Divine Performing Arts show.
Mr. Somcnai and his family
Mr. Somcnai, a businessman from Thailand, enjoyed every portion of the show. He came with his entire family.