Taiwan: Chief of Wuchi Township Signs Petition Calling for an End to the Persecution (Photo)
February 12, 2008 | By a Falun Dafa practitioner in Taichung, Taiwan
(Clearwisdom.net) A few days ago, Falun Gong practitioners visited Mr. Chen Ting-hsiou, Chief of Wuchi Township, in Taichung County, Taiwan. The practitioners explained the Chinese Communist Party's (CCP) persecution of Falun Gong and invited Mr. Chen to sign the Global Anti-Persecution Petition. Mr. Chen signed the petition and said that helping China improve its human rights was a good deed.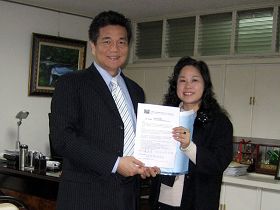 Mr. Chen Ting-hsiou (left), chief of Wuchi Township, Taichung County, signed the Global Anti-Persecution Petition.
The Coalition to Investigate the Persecution of Falun Gong (CIPFG), founded in April 2006 by people around the world who pay attention to the human rights of Falun Gong practitioners, started a campaign on January 1, 2008, to secure one million signatures on the Global Anti-Persecution Petition, calling for the CCP to stop the persecution.
Chen said it was unbelievable that any government would launch such a long-term suppression against practitioners who practice "Truthfulness-Compassion-Tolerance." He condemned the CCP's practice of removing organs from living Falun Gong practitioners and selling them for profit. The CCP wants profits and superficial achievements and that is why the poisonous foods and hazardous toys are ending up all over the world. Now the CCP even abuses people's lives to profit from illegal organ transplants.
The CIPFG has established America-Canada, New Zealand-Australia, and Asia divisions. The current director of the Asia CIPFG division is Lai Ching-te, a member of the legislative Yuan in Taiwan. Before the 2008 Beijing Olympics, the CIPFG will collect the signatures and send the petition to various governments, assemblies, the UN, and the International Olympic Committee, to solicit help in stopping the persecution in China.