Chinese Spectator: Chinese New Year Splendor is the Best Way to Learn about Chinese Culture (Photo)
(Clearwisdom.net) On the evening of February 5, 2008, Ms. Du Ruozhu told her schoolmate, Han, about the contents of the dance, "Creation." This is the first number in Divine Performing Arts' Chinese New Year Splendor at New York's Radio City Music Hall.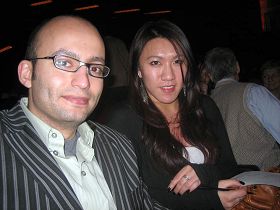 Ms. Du Ruozhu (right)
Ms. Du told journalists that she has seen lots of Chinese performing arts shows from an early age. Her father put much emphasis on Chinese cultural education, and she learned how to dance when she was very young. However, she felt that tonight's show was completely different from the shows she watched in China. She thought the overall presentation by Divine Performing Arts much more graceful.
Ms. Du went on to say that her younger brother and many of her friends and schoolmates were born in the United States. They are of Chinese origin, but do not know how to speak Chinese or know anything about Chinese culture. She believes that if there are more shows like this one, that display Chinese culture every year, it would enable more eastern and western people to come into contact with traditional Chinese culture. Especially if the show is at Radio City Music Hall and continues to be of such high quality.
She expressed the hope that the Chinese New Year Splendor will be the vehicle for this important cultural exposure.
February 6, 2008