Researcher from Columbia University: The Erhu Is Noble, Old, and Beautiful
February 10, 2008 | By He Yu
(Clearwisdom.net) As I watched the Divine Performing Arts Chinese New Year Splendor at Radio City last night, I noticed two western audience members beside me who seemed to be enjoying the show very much. Sometimes they applauded loudly, sometimes smiled happily, laughing at the hosts' humor. At the intermission, the two friends agreed to talk to this reporter and share their feelings.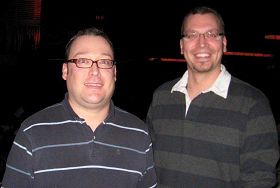 Steve Hardin (left) and Eric Schrimshaw (right)
Eric Schrimshaw is a researcher at Columbia University, working in the area of public health. Steve Hardin works for United Airlines. They are good friends so they came to the show together. They said it was an amazing and colorful show and they enjoyed it very much.
Of the performances in the first half of the Splendor, they both liked the "Nymphs of the Sea" most. Mr. Schrimshaw said, "Those nymphs of the sea waved their long blue fans, gracefully, softly and harmoniously. I was amazed, as there were about 40 or 50 dancers on the stage, and they were so orderly and in harmony. The dance and the music just fit together perfectly."
He continued, "Radio City Music Hall has one of the largest stages in the world. With such a stage, with the high technology colorful background, and dancers' movements, you feel like it's real. I am speechless. It's really good."
Before the show started, they were reading the program brochure and Eric pointed to a picture of Ms. Qi Xiaochun performing the Erhu and said he had listened to this kind of musical instrument before.
When reporter asked him what he felt after listening to the Erhu performance in person, Mr. Schrimshaw said, "It's extraordinary, splendid. The Erhu accompanied by piano... I felt it was noble, old and beautiful. Its like a centuries-old antique in perfect condition."