Falun Dafa Practitioner Mr. Li Zhengling Dies in Custody (Photo)
(Clearwisdom.net) Mr. Li Zhengling was born on October 9, 1964. He lived at 94 Dongxin Street, Gulin Town, Gulin County, Sichuan Province. In 1983, he was transferred from the Yanyuan Armed Police Force to the Gulin County Medicine Company's Taiping Wholesale Department. Following a period of unemployment, he opened a pharmacy on the provincial border between Taiping, Sichuan Province and Xishui, Guizhou Province.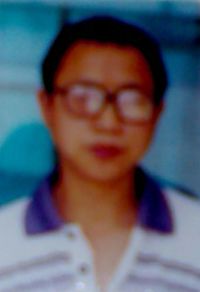 Falun Dafa practitioner Mr. Li Zhengling
In 1996, Mr. Li began practicing Falun Dafa, and he experienced both physical and psychological benefits. In order to spread the practice, he traveled between Sichuan and Guizhou Provinces, helping many people to learn Falun Dafa. On October 27, 1999, in order to resist the persecution, he organized about 300 people to do the Falun Dafa exercises at Changzheng Bridge in Taiping. This led to his arrest by police from the Taiping Police Station and the Xingmin Police Station in Xishui County, Guizhou Province. Mr. Li was detained at the Xishui County Detention Center. At that time, both police stations asked his family to pay 8,000 yuan for his release. Mr. Li's wife, Ms. Hong Shiping, refused the extortion. After three days, without following any legal procedures, the Xishui County police claimed that Mr. Li had been sentenced to three years' forced labor, and they sent him to the Qingzhen Forced Labor Farm in Guizhou.
Mr. Li Zhengling was subjected to three years of persecution there, and his term was unjustly extended by two months. He returned home in December 2002, and became a coal merchant. He continued studying the Fa, doing the exercises, distributing materials and hanging banners explaining the facts about Falun Gong.
On December 28, 2004, Zou Qiang, a team leader in the Gulin National Security Team, along with six others, broke into Mr. Li's home, and Mr. Li was taken to the Gulin Detention Center. The police also ransacked his home many times. On February 4, 2005, he was arrested again, and sentenced to five years of imprisonment. At that time, Mr. Li's eyesight was very poor, so his family members asked that he be allowed to stay home, but their request was refused.
Li Zhengling was sent to Deyang Prison, where he became blind due to continuous mistreatment. On October 28, 2007, Mr. Li's mother overcame many difficulties and got approval to visit her son. Two people held him up by his arms and brought the emaciated Mr. Li to the meeting room. During the meeting with his mother, Mr. Li could only hear his mother's voice but could not see her. They were allowed to talk for only about ten minutes. After seeing her son's condition, Mr. Li's mother requested permission to bring him home to take care of him, however her request was refused.
At 9:00 p.m. on June 21, 2008, Mr. Li's family members received notice that he was critically ill. On June 23, they finally got through all the red tape and rushed to Chengdu. At 7:00 a.m. on June 24, they found the Shuangliu Police General Hospital. After searching around for a while, they finally found out where he was. They were told that Li Zhengling's blood pressure had been just over 60 when he was brought to the hospital on June 11 and that he had died at 5:30 a.m. that day, June 24, 2008. They were only permitted to see his body after guards from the Deyang Prison arrived.
Policeman Wang from the Deyang Prison claimed that Mr. Li did not cooperate with them, vomiting up everything when he was fed and refusing to release his bowels, sometimes releasing his bowels in bed. When they saw the body, his family members found bedsores on his bottom, a small cut on his neck, and a cut on his abdomen. Also, the color of his face was abnormal. According to explanations from the relevant people, the cut on the neck was for ventilation while the cut on the abdomen was for releasing urine. Actually, during his last days, Mr. Li could not digest any food as all his organs had failed. He was nearly comatose, and his kidney failure caused him to be unable to urinate. He was dying, but people from the prison still had not allowed his family members to take him home.
Prison officials didn't let the family take a photo, and they immediately cremated his body. They didn't even wait for his wife, who was rushing to the hospital to see her husband's face for the last time.