Germany: European Experience Sharing Conference Held in Berlin (Photos)
November 22, 2008 | By a European practitioner
(Clearwisdom.net) The 2008 European Falun Gong Experience Sharing Conference was held in Berlin, Germany on November 16th. Practitioners from more than 30 countries participated. Eighteen practitioners shared their experiences and understandings. The conference atmosphere was both warm and solemn. The conference concluded with a reading of a message from Falun Dafa's founder, Mr. Li Hongzhi.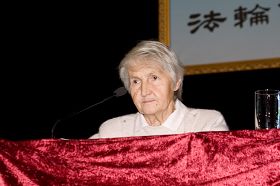 Practitioners from different countries share their experiences
Practitioners share their experiences
In the message, Master Li expressed hope that practitioners in Europe would learn a great deal from the conference; and find their weaknesses as they raise awareness about the persecution, so that they will do even better. Master also expressed hope that those who are not very diligent will find the gaps in their cultivation in order to complete their historic missions.
Ten years ago, Master Li himself came to Frankfurt, Germany and held a Fa Conference in Europe. Master Li lectured for hours. Today, practitioners in Europe have become mature and are playing an active role in different Fa-rectification projects. They co-operate well with one another and work hard to remember to cultivate themselves while working to end the persecution.
Practitioners from Sweden, Belgium, Slovakia and the Netherlands shared their personal experiences in working hard at unconditional co-operation during the process of holding the Gala Spectacular performances.
A practitioner who has recently come out of mainland China talked about how she kept firm in her belief during the time when she was being persecuted.
Practitioners from Germany and Belgium shared their experiences in talking to European Members of Parliament and others about the shutdown of New Tang Dynasty TV broadcasts into China.
Two practitioners from Switzerland and Russia who are over 70 years old talked about how they persuaded Chinese people to quit the Chinese Communist Party and patiently helped them understand the truth about Falun Gong and the persecution.
A practitioner from Spain who began to practice Falun Dafa not long ago shared his experiences of talking to family members and friends about the persecution.
The speeches were sincere and moving, striking a sympathetic chord with the conference attendees.