Taiwan: Truth-Compassion-Forbearance Art Exhibition Provides a Moral Textbook for Students (Photos)
November 16, 2008 | By Lin Ya-ping
(Clearwisdom.net) The International Truth-Compassion-Forbearance Art Exhibition has been held in Taipei since October 30, 2008 and has made an impact on Taiwanese society. Many school principals and teachers have come to view the paintings.
Mr. Wei Liang-an (right), a retired director from Mingte High School, invited Principal Li Ching-chong (left) of Datong High School to view the International Truth-Compassion-Forbearance Art Exhibition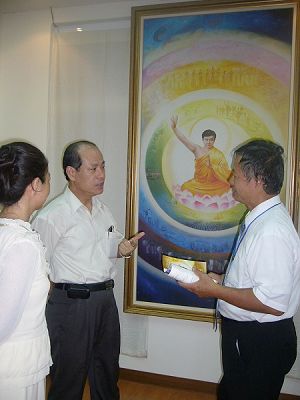 Principal Hsu Shan-te (middle) of Huachiang High School listens carefully to friend Wei Liang-an's explanation of the paintings
Principal Hsu Shan-te of Huachiang High School has some knowledge of painting. He said, "Humanities and the arts are an important area in school education. Art represents beauty. If a painting presents goodness, students can learn the value of life. Painting and its meaning should be understandable. This is most important."
Mr. Hsu said he was familiar with the Shihlin Exhibition Hall and was pleased to view the paintings there. He said, "Since the artists are Falun Gong practitioners, they express their good characters developed through cultivation. I'll encourage teachers and students to view this international art exhibition. Viewing these paintings is helpful for them to improve themselves and is also a good guide for society."
Principal Chong Wei-kuo of Chungching High School pointed out, "The Chinese Communist Party (CCP) suppresses people, but coercion cannot change people's hearts. From the paintings, we can see that the kind-hearted practitioners do not have hatred in their hearts. They just spread the grace of Falun Dafa to the world. They hope that through truth-clarification, more people will pay attention to the suffering of practitioners being persecuted in China."
Principal Li Ching-chung of Datung High School listened carefully to the explanations of the tour guide. He said, "Falun Gong is a practice based on belief in Truth-Compassion-Forbearance. It can improve people's moral values."
Mr. Wei Liang-an, a retired director from Mingte High School, has practiced Falun Gong for years. Since he benefited a lot from the practice, he volunteered to be a tour guide for the paintings exhibition and invited principals from more than twenty schools to learn about Falun Dafa as well as the CCP's persecution of Dafa practitioners.