(Clearwisdom.net)
On September 19, 1999, Falun Gong practitioner Yu Zhenyi from Harbin City, Heilongjiang Province was arrested and
illegally detained
. During September 2001, he was sentenced to four years in jail. At that time he had already been tortured. During April 2002, he was transferred to the Harbin Third Prison. On April 25, 2002, his family took him from Wanjia Forced Labor Camp to the Second Hospital affiliated with Harbin Medical University for emergency treatment. An examination showed that he had been violently hit in the head and was suffering from severe internal injuries. He died on May 14, 2002. His father, Yu Guanyun, was arrested during July 2002 and was sentenced to three years of forced labor. He died on January 11, 2003, as a result of the torture he endured in Changlinzi Forced Labor Camp and in the hospital in Wanjia Forced Labor Camp in Harbin. To avoid near certain arrest, his younger brother, Yu Zhenxiong, has not returned home for the past five years.
(Clearwisdom.net)
On July 31, 2008, the police in Laixi City, Shandong Province, arrested 17 Falun Gong practitioners. They were having a study and discussion session at a practitioner's home.
The arrested practitioners were Mr. Liu Jingquan, Ms. Liu Hong, Mr. Zhu Lixin, Mr. Zhang Weixing from Xiagezhuang Township, Ms. Li Xiumei from Xiagezhuang Township, Ms. Pang Weina from Sunshou Township, Ms. Wu Jianfang, Ms. Wang Guizhi, Ms. Guo Ruiyu from Wubei, Mr. Huang Xingjiang, Mr. Xian Dequan from Hetoudian Township, Ms. Tian Lanfeng, Ms. Li Guixiang, Ms. Ding Hongai from Yuanli Township, Ms. Dai Guoyu, Ms. Zhou Chunhua from Lijiatuan Village, and Ms. Chen Yufen.
(Clearwisdom.net)
Personnel from the Tonghe County
610 Office
and Police Department arrested and persecuted several Falun Gong practitioners right before the Olympics. While the practitioners were held in the detention center, they were mentally and physically tortured. The practitioners who were
illegally arrested
included Mr. Yan Zhijun, Ms. Chen Shoumei, and Mr. Zheng Yulin.
~ Accounts of Persecution ~
~ Solemn Declarations ~
~ Other Community Events ~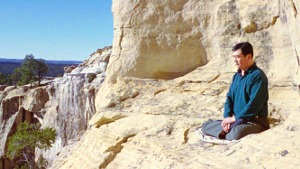 Master Li quietly watching the world from amidst the mountains after leaving New York following July 20th, 1999. (Published January 19, 2000)