Chicago: "The Spectacular Opens My Heart and Mind" (Photo)
(Clearwisdom.net) On January 25, SAP America sales representative Anne Cheney flew from Los Angeles to Chicago to visit her younger brother. As soon as she arrived, her brother took her to the Arie Crown Theater to watch the Chinese New Year Spectacular. After the show, she told the reporter, "I would come back to Chicago just for this."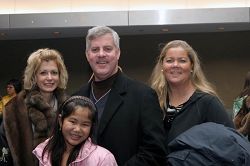 Anne Cheney and her brother's family
Besides being impressed with the outstanding music and dance performances, Anne was surprised by how much she learned. "I feel much more aware now of what is going on in China. I just thought it was a wonderful show and it was very enlightening." Anne said she was also very moved by the performances. "I am humbled by watching this [show]. It just opens my heart and opens my mind to more of the Chinese culture."
Anne's brother Ward Kelly is a software salesman and has an adopted daughter from China. Ward said, "It was amazing because of the whole synchronicity of the dancers...just amazing." He was also impressed by the Mongolian dance with water in the background, saying, "That was a killer." But he said that he enjoyed all of the performances, "I was fascinated for the whole two hours."
"Seriously, I would come back Chicago just for this," Anne said to the reporter. When the reporter told Anne that Los Angeles just hosted the show a few days ago, Anne was surprised. "If I had known this, I would have gone to see it in Los Angeles with our children." She went on to say that China is a big part of the world, and we need to pay attention to what is going on in China. "And the fact that you guys actually spoke to the community with music and dancing about today's issues in China...I was impressed. I came through enlightened and more knowledgeable than I was before I came here."
Anne expressed her appreciation for the show once again. "I really feel honored to be able to be here and watch this to celebrate the New Year. I am so glad I came."