Ottawa Mainstream Media Highlight Spectacular (Photo)
(Clearwisdom.net) After the Divine Performing Arts Company presented two shows in Ottawa last week, many mainstream media outlets, including the Canadian Broadcasting Corporation, Canadian TV, Channel A TV, and the Ottawa Sun contacted the company and local hosting organization for interviews.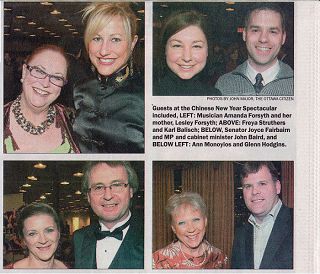 Notable guests attended the Spectacular's VIP reception (Ottawa Sun)
On January 13, a VIP reception for the Spectacular was held before the show. About 200 notable guests, including government officials, diplomats from foreign countries, and important individuals in the arts and business, attended. The Ottawa Sun published a photo report covering the event. The guests at the VIP reception included in the Sun photo are: Juno Award-winning Canadian cellist Amanda Forsyth and her mother, Public Relations manager of Opera Lyra Ottawa Karl Balisch and his friend Freya Struthers, Senator Fairbairn and Minister of the Environment John Baird, and Ottawa Chamber Music Society executive director Glenn Hodgins and his wife, Ann Monoyios.
Both of the Spectacular shows in Ottawa received standing ovations. The events were truly spectacular. According to a survey conducted afterward, 97 percent of the audience members rated the show as excellent or good. The Divine Performing Arts won the respect of the Ottawa spectators, some of whom have contacted the hosting organization to reserve tickets for next year's show.