"International Chinese Vocal Competition" Promotes the Worldwide Spread of Traditional Chinese Vocal Arts (Photos)
(Clearwisdom.net) New Tang Dynasty Television (NTDTV) will hold the first "International Chinese Vocal Competition" in late October. Department Chairman Cai Ying-wen of Taiwan Arts University highly praised this competition. Through vocal arts, traditional Chinese art can spread to each corner of the world. Currently there is a global trend of learning the Chinese language. Chinese traditional art and music will soon become a mainstream feature on world stages.
NTDTV will hold a series of international competitions to promote righteous art and culture, giving artists with special skills an opportunity to share their experience. The aim of this competition is to foster cultural exchange and promote traditional vocal arts of pure authenticity, pure goodness, and pure beauty.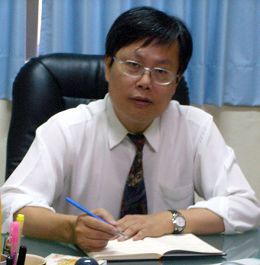 Department Chairman Cai Ying-wen of Taiwan Arts University
Mr. Cai studied in France in 1991. Besides vocal music, he also studied France's traditional music education system. He found that European education pays special attention to music and art and that upright values are embedded in their traditional arts.
After obtaining an advanced degree in vocal music from the Paris Normal Music College, and giving several acclaimed performances of traditional Chinese music, Mr. Cai returned to Taiwan and promoted Chinese traditional culture in music. He offered a course in "Chinese Artistic Songs" at Taiwan Arts University.
Only with High Morals Can a Musician Touch the Listeners
Mr. Cai pointed out that general artworks are completed in three phases, composition, production, and inspection. A singer needs to understand the composer's background and connotation of the lyrics to present the song and to bring it to life. A singer with a rich artistic background can give a truly moving performance of a song. The pop songs of today are usually about negative feelings rather than uplifting, and are shallow in depth.Mr. Cai also emphasized that vocal artists should have high morals to be effective in presenting music that touches the heart.
If a singer is selfish and thinks of taking advantage of others from morning to evening, how can his songs touch people?
Mr. Cai believes that an important part of music composition by a vocal musician is his life experiences. He said that if a musician cares about society and composes music while showing care for humanity, it would help bring harmony to the entire society He hoped that many Chinese vocal specialists would gather and sing righteous music in the first global Chinese vocal competition.
Wishing the Vocal Competition Success
Ms. Jiang Hua is a performer, singer, and teacher at The Chinese University of Hong Kong and The Hong Kong Academy for Performing Arts. She was selected as best singer by the Hong Kong Artists Association in 1988. She said she was pleased to know that NTDTV will host the first International Chinese Vocal Competition. It will promote traditional music and provide opportunities for Chinese vocal specialists.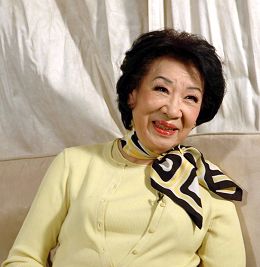 Jiang Hua is near eighty years old and a renowned soprano in Hong Kong. She is a teacher at The Chinese University of Hong Kong and The Hong Kong Academy for Performing Arts
Though traditional music is less popular these days, every vocal musician should promote it. She said, "I have been in the music field for several decades and I am working hard. I have not retired. My goal is to help righteous music continue, and to hand over the traditional music to the next generation. Thus I praise this competition and hope more youths will support it."
She wished the competition success, "I believe it will be run well, and I hope it is not held only once, but two or three times. I will encourage my students to participate."
Ms. Jiang was born in Shanghai and moved to Hong Kong in 1950. After studying the vocal technique of bel canto for three years, she earned a degree from the UK Royal Academy of Music and further studied at a music institute in Rome, Italy.
Righteous Music Needs Understanding from the Heart
Nowadays pop songs are commonplace. Ms. Jiang pointed out that one reason is that "When listening to pop songs one does not need to think or sit in a music hall. One can hear them on the radio and TV." But traditional music needs audiences to listen with their hearts.
She pointed out that truly artistic songs are rich in content and broad in range. Nowadays pop songs are easy to sing, but are quickly replaced by others. For example, some singers are very popular, but after a few years, they are replaced by new singers. Their artistic life of pop music is relatively short. But for traditional music, its artistic life lasts longer, remaining alive in the hearts of the listeners.
Spreading Chinese Folk Songs Worldwide
Ms. Lo Lifang, Chairman of the Department of Music at Malaysia Art College, praised NTDTV for hosting the International Chinese Vocal Competition. She indicated that encouraging the world to listen to beautiful traditional Chinese music will make for a great event.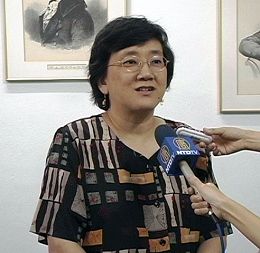 Ms. Lo Lifang, Chairman of the Department of Music, Malaysia Art College
Ms. Luo once represented Malaysia while participating in a musical event in China and had the opportunity to hear unique and excellent traditional Chinese songs. She said that those songs were very beautiful and sung with great skill. Unfortunately these songs had no chance to be sung on stage or heard in other countries. This international vocal competition includes traditional folk songs, and she said, "NTDTV provides a very good and healthy platform to give more people the opportunity to hear and know these wonderful folk songs. Through such international competition, traditional Chinese culture such as folk songs can be spread worldwide. In addition, the competition and the meaning behind it will help people understand the importance of passing down traditional Chinese culture."
Ms. Luo indicated that passing down traditional culture is very important in such a myriad world. It can promote friendship and understanding and make the world more peaceful.
She gave an analogy, "This competition is a key to opening a door to have the young generation of Chinese people learn about genuine traditional culture and cherish traditional Chinese vocal culture. When people mention vocal competition or artistic songs, they think of western music. But I think that traditional Chinese folk songs are very artistically challenging and should not be limited to China. The songs should be presented to the world. The vocal competition in New York is a very good idea since New York is an international center. The competition held there can be effective in spreading and promoting Chinese traditional culture."
Ms. Luo graduated from the Department of Music at Malaysia Art College. She obtained a scholarship to study at Columbia University in America. She also obtained a Masters degree in music from Massey University in New Zealand. She has been teaching in the Department of Music at Malaysia Art College for twenty years. She has been an evaluation committee member for many Asian music competitions.
Righteous Music Touches People Deeply
Ms. Huang Binjie, former director of the Singapore Vocal Music Association and senior musician, said that righteous music touches people deeply.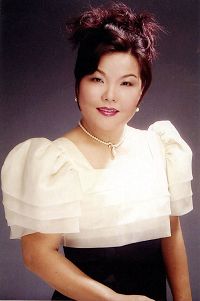 Ms. Huang Binjie, former director of Singapore Vocal Music Association and senior musician
Mr. Huang graduated from Musashino Academy of Music in 1981 and returned to Singapore. In 1983, she won an award in the Singapore-Malaysia Music Competition. She had touring performances in Japan, Taiwan and Hong Kong. She is dedicated to training students and teaches vocal music and piano.
Upon learning of NTDTV's hosting the first International Chinese Vocal Competition to promote righteous music, she indicated that currently pop music is most prominent while traditional music has become less popular. But there are many musicians dedicated to the art regardless of it being less popular.
Ms. Huang said, "NTDTV promotes traditional music and culture. This is great."
She said that there are many Chinese vocal musicians and lovers of traditional arts. NTDTV has wide coverage in the world and provides a good opportunity for the contestants. Outstanding performers will be recognized globally. New contestants will be able to build experience on stage and improve their skills.
"The audience will be uplifted through watching the competition." Ms. Huang said.