Over Forty Practitioners Arrested in Liaoning Province, Ms. Hu Yanrong Dies Under Suspicious Circumstances in Police Custody (Photo)
(Clearwisdom.net) At around 10 p.m. on August 1, 2007, Li Zhenghua, Director of the Beilu Township Police Station in Lingyuan, Zhaoyang City, Liaoning Province, and five police officers broke into practitioner Guo Fengxian's house. The officers held handcuffs and batons in their hands.
At around midnight, Lin Guilin, Captain of the Lingyuan City National Security Brigade, and dozens of police officers arrested over 40 practitioners, including Ms. Hu , during an experience sharing meeting.
Ms. Hu Yanrong was tortured in the Lingyuan Detention Center and the Masanjia Forced Labor Camp in Shenyang City. The police claim that Ms. Hu sustained severe injuries when she tried to jump out of a police car. Ms. Hu fell into a coma. Doctors at Lingyuan Prison Hospital performed two brain surgeries, but Ms. Hu died at 2 a.m.. on August 5. There were no other witnesses during the incident that could corroborate the police's story. The details of Ms. Hu's death are still under investigation.
All other practitioners are currently imprisoned in a detention center and denied outside contact.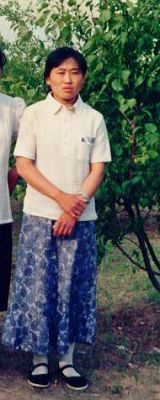 Ms. Hu Yanrong before the arrest
Ms. Hu Yanrong died in police custody
When Ms. Hu was at Lingyuan Prison Hospital, police monitored her around the clock. Ms. Hu's head was swollen, her eyes and mouth were bruised, the area between her temples and eyes was dark purple, and her nose was bruised. There were traces of blood on her face. After Ms. Hu died, the police blocked all information and put her family under surveillance. The police monitored Ms. Hu's family and the entire village and questioned all people who entered and left the village. They even had a guard keep watch on Ms. Hu's body at the hospital morgue. Ms. Hu left two children behind. The Lingyuan Police, Beilu Township Police, and the Zhaoyang City Commission are responsible for Ms. Hu's death.
It is believed that Zhang Minghua, Deputy Head of the Zhaoyang City Public Safety Bureau, was responsible for the the arrest of the more than 40 practitioners. Before the arrest, the Zhaoyang City Commission and City government released a secret official notice (No. 21 from Zhaoyang City Commission Office, 2007) asking the city to continue vigorously with the persecution against Falun Gong. The notice was sent to every city office of the Chinese Communist Party throughout the county. The directive was to deliver the order through internal meetings or special classes.
Ms. Hu Yanrong, 42, was from Xiaoyushulin Village, Beilu Township, Lingyuan City. To clarify the truth of the persecution, she went to Beijing to appeal for Falun Gong on December 30, 2000. The Lingyuan Public Safety Bureau agents arrested and beat her. As a result, her left leg was severely bruised and her mouth was swollen. After being beaten for three hours, she was charged 800 yuan and imprisoned in the Lingyuan Second Detention Center for six months. In June 2001, she was taken to the Masanjia Forced Labor Camp in Shenyang City and imprisoned for two years. She was tortured and her life was in danger. The camp staff was afraid that she would die and didn't want to be responsible. She was released after they extorted 2,000 yuan from her family, calling it a deposit.
Ms. Hu left behind a five-year-old son, a twelve-year-old daughter and a 70-year-old father-in-law. Because Ms. Hu was imprisoned often throughout the past years, the children were mentally traumatized and her husband had a difficult time taking care of the entire family. It was difficult to function under such pressure.
The Beilu Police Station (Ju Wenxiang was the former Director) arrested, fined, and harassed Ms. Hu's parents, Ms. Hu Dianxin and Ms. Cui Yuzhi very often. On December 30, 2000, Mr. Hu Dianxin went to Beijing to appeal for Falun Gong. He was arrested and taken to the Lingyuan Public Safety Bureau. The police slapped Mr. Hu, chastised him, tortured him for three hours and detained him in the Second Detention Center. The police confiscated the 380 yuan he had on him. According to a witness, the 380 yuan was all in small value coins (1 or 2 yuan) and was all money the poor family had. After Mr. Hu was imprisoned for 15 days, his physical health deteriorated. The police feared that his life was in danger and didn't want to be responsible for his death. They took a 400 yuan "deposit" from Mr. Hu's relative and released him. After Mr. Hu returned home, the police harassed him continuously and illegally searched his home. Mr. Hu was traumatized because of the tremendous pressure. Mr. Hu died on February 8, 2001, at the age of 62.
Ms. Hu Yanli, Ms. Hu Yanrong's younger sister, was tortured many times. The Lingyuan City Second Detention Center detained Ms. Hu Yanli for almost six months and released her after she paid 4,400 yuan. Her son was only 8 years old and was scared all the time. Her husband became mentally ill because of the tremendous pressure and often had emotional outbursts at home. Her parents-in-law worried constantly about their daughter in law and had to take care of their mentally ill son and young grandson.
The Beilu Township Police Station in Lingyuan City, 86-421-6401004
Li Zhenghua, Director of the Beilu Township Police Station in Lingyuan City, 86-13904211141(Cell)
Wang Guilin, Captain of the National Security Brigade, 86-421-6891665, 86-13704917349 (Cell)
Zhang Lin, Director of the Lingyuan City Public Safety Bureau, 86-13304910001 (Cell)
Yang Minghui, Deputy Director of the Lingyuan City Public Safety Bureau, 86-421-6883103 (Office), 86-421-6824813 (Home), 86-13904213390 (Cell)
Dong Zhimin, Deputy Director of the Lingyuan City Public Safety Bureau, 86-421-6883106 (Office), 86-421-6816719 (Home), 86-13904916066 (Cell)
Zhang Minghua, Deputy Director of the Zhaoyang City Public Safety Bureau, 86-13904219999 (Cell), 86-13904213999 (Cell)