California, USA: Celebrating Independence Day with Traditional Chinese Virtues (Photos)
July 07, 2007 | By a practitioner from California
(Clearwisdom.net) On July 4, 2007, Falun Gong practitioners from California participated in the 103rd Independence Day Parade in Huntington Beach. Spectators were attracted to the waist drums, the Heavenly Maidens Dance, the Lotus Flower float and the exercise demonstration. The host of the parade introduced Falun Gong to the spectators, saying practitioners were celebrating Independence Day with traditional Chinese virtues.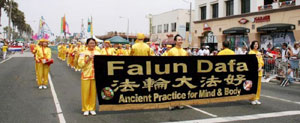 Falun Gong practitioners' entry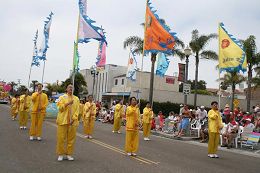 The flag team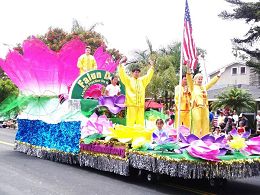 Falun Dafa float
The Independence Day Parade in Huntington Beach is the largest in the western USA. This year, more than 300 groups entered the parade. The parade lasted for three hours, and 250,000 people watched it. KOCE TV Station broadcast it live in the afternoon.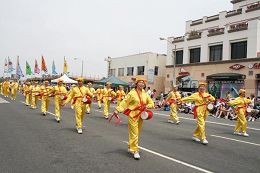 The waist drum team
Heavenly Maidens Dance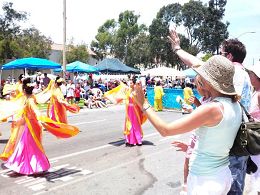 Spectators wave at practitioners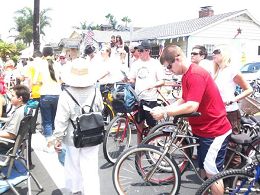 Reading about Falun Gong
The Falun Gong entry in the parade attracted a lot of attention. People shouted, "Welcome to America!" Many people asked what Falun Gong was, and asked for fliers.