First-ever International Chinese Classical Dance Competition Revives Divinely-Inspired Culture and Marks a Historic Moment (Photos)
July 10, 2007 | By Cai Ju, Minghui/Clearwisdom reporter in New York
(Clearwisdom.net) On July 8, 2007, at 1:30 p.m., the First International Chinese Classical Dance Competition organizers drew the final curtain on the three-day event amid cheers and thunderous applause.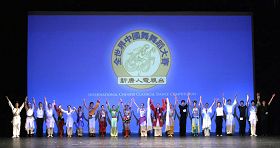 On July 8, the First International Chinese Classical Dance Competition successfully concluded in New York
 


Drama critic Guo Ching-zi (second from right) and her husband, Chang Ching-chi, former Chairman of the Taiwan Chamber of Commerce (first on the right), and their friends gave the competition high marks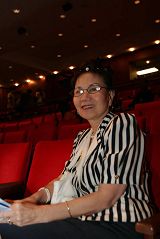 New York renowned vocalist Professor Gao Weiliang said, after watching the finals, that the competition was a great opportunity to present Chinese classical dance to the world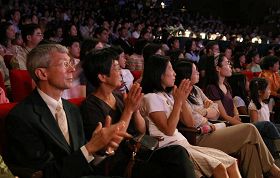 The finals of the International Chinese Classical Dance Competition attracted a packed audience that enthusiastically applauded and cheered
 
Contestants from around the world gathered in Skirball Center for the Performing Arts at New York University in Manhattan to showcase the multi-faceted character of Chinese dance and its divine beauty that pursues pure kindness and pure beauty. Through three-days of intense competition, 14 contestants won gold, silver and bronze awards in the junior men's and junior women's divisions and the adult men's and women's divisions.
The finals on July 8 attracted a packed audience that applauded and cheered for one climactic performance after another. Many audience members said that it was the first time they had ever seen such a wonderful dance competition. The dance competition presented traditional Chinese culture in an effort to bridge Eastern and Western cultures. The organizers expect to host the dance competition for years to come. Some audience members were particularly impressed with the high caliber of the competition, which they thought was a good start for the resurgence of Chinese dance throughout the world.
Chinese Dance to Lead a New Cultural Trend
Spokesperson for the judging committee of the competition and veteran Chinese classical dance expert Ms. Cao Yi said that authentic traditional dance is so beautiful that it can touch people's hearts. She believes that everyone has a heartfelt wish for pure authenticity, pure kindness, and pure beauty, and will appreciate something glorious and good. Chinese dance is like a divine pen, able to express a variety of styles. Posture, jumps, twirls, tumbling, and other techniques in the language of dance are incorporated into dances with great charm and variety. Through its inner spirit and divine charm, Chinese dance can express lofty spiritual pursuits, and it will play a positive role in reviving human culture and morality. China's 5,000 years of history provides an inexhaustible source of subject matter for Chinese dance.
Ms. Cao Yi said that the dance competition attracted proficient talents and showed the world Chinese dance's unique and exquisite artistic charm. It is hoped that the competition will inspire a general interest in Chinese dance and help people recognize the essence of Chinese classical dance, leading a new trend for human culture and constructing a new art of pure authenticity, pure kindness, and pure beauty.
President of NTDTV Li Zong said that one of the aims of NTDTV is to carry forward traditional Chinese culture and enhance communication between Western and Chinese cultures. To this end, NTDTV holds the Global Chinese New Year Gala every year and launched the International Chinese Classical Dance Competition this year. The competition is groundbreaking and the beginning of a renaissance of Chinese culture.
Critic: Contestants in the Chinese Dance Competition Are of High Caliber
The critics had high praise for the first International Chinese Classical Dance Competition and its tremendous contribution to promoting Chinese culture.
Renowned Chinese dance artist Chen Chia-chi watched the semi-finals and said that the International Chinese Classical Dance Competition was well organized and that the performance level of the adult divisions was quite high and the performers did quite well. Contestants all had very good technical skills and basic skills.
One of the outstanding Chinese dance artists among the first generation of Chinese dance performers cultivated by China's dance academies--and who is living abroad--especially came to watch the finals. He said that NTDTV's International Chinese Classical Dance Competition was a remarkable event and that NTDTV was even more remarkable for its unselfish contribution to perpetuating the art of Chinese dance.
The significance of the competition is to promote traditional Chinese culture worldwide. The older expert was amazed at the high level of competition. The contestants were professionally proficient. Unfortunately, a good many of performers inside China were unable to participate.
Drama critic Ms. Kuo Ching-zi complimented the performances. She said that the contestants were of very high caliber and that many highly difficult movements involved were done superbly, an accomplishment achieved only by long-term practice.
New York renowned vocalist Professor Gao Weiliang watched the finals and expressed admiration and appreciation for NTDTV for it unremitting efforts to share traditional Chinese culture, in this case Chinese Classical Dance, with the world.
An older Chinese individual who has been in America for over 40 years said to the reporter that the competition was a grand occasion for the dance community. He thought it would help integrate Chinese culture into US mainstream society and land Chinese dance on the world's stage.
Western and Chinese Audiences: Rich Feast of Art, Diverse and Wonderful
The audience was very excited for the opportunity to appreciate a performance of such high proficiency. They applauded again and again.
One audience member, a businessman named Mr. Qiu, commented on the wide range of varieties and styles. He noted that some performances were very lifelike, while others had lingering charm. He felt that the competition provided a platform for artists from all over the world to display their talents.
Mr. Seth Kaminsky, a lawyer, appreciates all dance forms, including Chinese dance. He said that the performers were all very good and full of expression. "I cojld see different people, mountains and water, in the stories. It helped me to have a better understanding of the spirit of Chinese culture. It was interesting."
Noemy Hermandez, a singer, said that this was her first time to see a large-scale Chinese dance competition. She saw it as a very good opportunity to understand the Chinese culture. "Chinese Classical Dance is very unique," she said. "It is very expressive and can convey a very wide range of content."
Zhao Daihua and his wife have llived in the US for over 20 years. They are Chinese from Singapore. Mrs. Zhao said that they appreciate authentic culture. Chinese classical dance is quite different from many modern dances, she emphasized, "more on a spiritual level that gives people righteous and moral inspiration. Chinese classical dance is very healthy and positive."
Mr. Zhang is a singing teacher. He commented that contestants had put great effort into the contest. They had solid basic skills. "It is not easy to express ideas through dance within just a few minutes."
Ms. Chen Qili from Kuala Lumpur, Malaysia, was very pleased to watch the competition. She said that the competition was fascinating, better than she had imagined. She said, "What I had imagined was already very good, but the actual performance was even more marvelous. What a pity that I haven't been able to buy the ticket for the finals."
Contestants Thank the Chinese Dance Competition
Dancers participating in the competition cherished this precious opportunity to exchange ideas and improve through the competition. They expressed their gratitude to NTDTV. A contestant's teacher said that the competition was a good start for re-awakening Chinese culture and an important milestone for children who decide to pursue dance. Some teachers said that they had gained a new way of thinking about Chinese dance.
Winner of the first prize in the adult men's division and veteran dance artist Chen Yongjia thanked NTDTV for providing such a good forum. He said, "This may be the last time for me to take part in this competition. Despite my experience, there is an age limit, and physical strength is a big challenge. Therefore I cherish this opportunity to participate in the international competition. I'm very happy to be able to win and bring my dance career to a perfect ending."
Chen Yongjia also said that this time was really an eye-opener, even though he has experienced a lot before. He benefited a great deal from exchanging with experts and other dancers from around the world on Chinese dance.
Winner of the third prize in the junior women's division Cindy Liu said that she learned a lot from other contestants. She said that the performances in the adult divisions were even more mature on technical skills than the junior divisions. She could tell that they had more experience, and she will learn from them.
Dancer in the adult women's division Jennifer Su did not enter the finals, but she said that she would not give up and would make every effort to come to the competition next year. "A main reason for participating is to learn; the result is not very important. It's quite a rare opportunity to absorb other contestants' experiences and the experience of such a large-scale competition.
New York Government Officials Thank the Dancers and the Organizers of the Competition
New York State Brooklyn Borough President Marty Markowitz and New York State Senator Malcolm Smith sent proclamations to the competition. State Senator Kemp Hannon and Representative Karim Camara sent congratulatory letters to the competition, welcoming contestants who had come from afar. They thanked the organizers of the competition and all the artists that participated. They thanked them for bringing Chinese dance culture with over 3,000 years of history to the people of New York. They recognized the dancers that contributed to the competition and thanked everyone who was responsible for making New York the capital of art.
The First International Chinese Classical Dance Competition was like a miraculous flower in full bloom, once again demonstrating to the world the broad and profound inner meaning of traditional Chinese Divinely-inspired culture.