San Diego Practitioners Invited to Lead Opening Meditation at Healing Arts Festival (Photos)
(Clearwisdom.net) On Sunday, May 6, San Diego Falun Dafa practitioners were invited to the annual San Diego Healing Arts Festival, to lead the opening meditation for the event. Three practitioners dressed in golden outfits demonstrated the five exercises on the small stage while other practitioners demonstrated on the grassy area and assisted the audience who came to learn and participate. A young man by the name of Mike said, "I love it. It is very nice. I am looking forward to studying more about Falun Gong." A woman who was visiting from Tucson, Arizona was watching the exercise demonstrations and was moved by the peacefulness of Falun Gong and the serene meditation. She later took a flyer about the CCP's organ harvesting, and it brought tears to her eyes.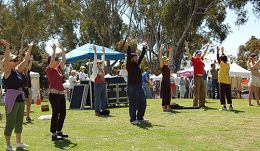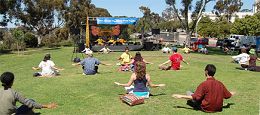 Practitioners teach those who are interested in learning Falun Gong exercises
Practitioners also passed out flyers about Falun Dafa as well as the CCP's organ harvesting to the participating venues and organizations. Many people said they had already heard about it and were deeply disturbed by the CCP's persecution of Falun Gong. They expressed their hope that it would come to an end soon.
San Diego Falun Dafa practitioners have participated in the Healing Arts Festival before, and the organizer of the event tried to contact them, but for some reason, was not successful. Then, about a week before the event, he saw a car with a "Falun Dafa is Good" bumper sticker in a parking lot and was able to make contact with practitioners that way. So, the predestined relationship continued, and he immediately wrote to the contact person, "We would welcome your Falun Dafa group to come out and lead a group meditation."
While other presenters were given only 5 minutes for their presentations, he assigned 20 minutes for the Falun Dafa opening so that we would be able to demonstrate all five exercises.