Boston: MIT Student Calls for Rescue of Her Mother, Who Was Arrested in China (Photo)
May 11, 2007 | By a Falun Dafa practitioner in Boston
(Clearwisdom.net) Cherrie Yang is a student at MIT; her mother Yan Ning is a Falun Gong practitioner in China. The police arrested Ms. Yan at her home in Tianjin on March 26, 2007. Upon hearing this news, Cherrie who is far away in the United States, has been seeking help to rescue her mother.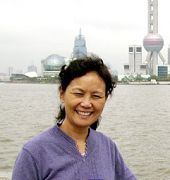 Mother of Cherrie Yang, who is a student at MIT, Yan Ning (Photo taken in Shanghai)
Cherrie said that her mother started practicing Falun Gong in 1994, and all her illnesses disappeared shortly after her practice. Her mother used to suffer from many health problems, her state of mind was dominated by considerations of gain and loss, and she often complained. Since practicing Falun Gong, she had a new understanding of life, and was no longer passive, pessimistic and tired of life. She pulled herself together and was no longer melancholy.
On July 20, 1000, the Chinese Communist Party (CCP) started the persecution of Falun Gong. Ms. Yan went to Beijing to appeal for Dafa with her personal experience. Ms. Yan went missing after she left home. The whole family went everywhere to look for her, but her whereabouts were still unknown. About one month later, the police took her back to Tianjin from Beijing. Not until then did her family learn that she had been subjected to persecution at Beijing's Xicheng Police Station during that month.
One day in 2001, Ms. Yan went to visit a fellow practitioner. She was arrested by the police who had been waiting there for a long time. She was then forcibly sent to Tianjin's Banqiao Forced Labor Camp for one and a half years.
While in the forced labor camp, Ms. Yan was forced to do heavy labor with young criminals such as drug addicts, prostitutes, thieves and other criminals. They plucked beans almost all day long. One bag of beans weighs over a hundred pounds. She had to carry, pluck and deliver beans all by herself. She often worked until 2:00 to 3:00 a.m. next day. The food they gave her was terrible.
According to Cherrie, the reason that her mother was arrested this time was that she distributed 300 Falun Gong truth-clarifying materials. Her father (Ms. Yan's husband) tried to help her put on an outer wear when the police came to arrest Ms. Yan, but the police beat him.
Upon learning that her mother was illegally detained, Cherrie, who is studying at MIT, was very worried. In the past month, she has visited the president of MIT, members of the House of Representatives and senators in Massachusetts, and councilors of Cambridge, telling them of her mother's experience of being arrested and persecuted. They all expressed their sympathy and wanted to provide help. Senator Kennedy and Congressman Capuano wrote letters on behalf of Cherrie to relevant departments in China, hoping to secure the release of Yan Ning.
On April 25, 2007, Cherrie spoke at a rally in front of the Chinese Consulate in New York. She said, "My mother did not commit any crime. The police arrested her over a month ago. Nobody has told us how my mother is being treated in the detention center. As of today, the CCP continues denying the truth about the persecution. My family's ordeal is live evidence: it proves that all that the CCP has said is lies. Today, I ask the Chinese government to release my mother and let her return home!"
This coming Sunday is Mother's Day, and it is also May 13, World Falun Dafa Day. Cherrie will take part in related activities held in Boston Commons Park organized by the New England Falun Dafa Association. She will seek people's righteous help, and collect signatures to ask the CCP to immediately release her mother.