More Details about Sun Youlin, Husband of a Dafa Practitioner, Beaten to Death in Anshan, Liaoning Province in 2004 (Photos)
April 21, 2007 | By a Dafa disciple in Anshan City
(Clearwisdom.net) On December 28, 2004, the murder of Sun Youlin was exposed in a report on the Minghui website titled "Police of Anshan City, Liaoning Province Arrested Falun Gong Practitioner Wu Yuqin and Beat Her Husband to Death" (see http://www.clearwisdom.net/emh/articles/2005/2/15/57565p.html). However, it was not until recently that we learned from the internet that her family has been brutally persecuted by the police for seeking justice. Here are some details we know of.
On November 3, 2004, police from the Qianshan District Police Department of Anshan City Police Department in Liaoning Province arrested Falun Gong practitioner Wu Yuqin. On November 7, Ms. Wu's husband Sun Youlin (a non-practitioner), a retired worker from Yanqianshan Iron Mine in Anshan went to the police office to look for his wife. But the police there created difficulties for him, and they had a quarrel. Instigated by the Political Security Section Head Zhang Guocheng, several policemen beat Sun Youlin violently. They dented the back of his head and shocked his whole body with electric batons. Mr. Sun died as a result.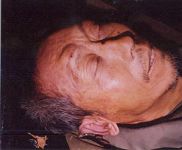 Photo of deceased Sun Youlin
After the incident, police of the Qianshan District took the following steps:
They destroyed the crime site evidence by moving Mr. Sun's body to another place and faking the spot. They went to the funeral parlor privately and secretly to deal with Mr. Sun's body, in an attempt to cover up the truth. The Police Department claimed that Mr. Sun was injured and then died because of a fall from a bench. The procuratorate also conspired with them to confound right and wrong.
The lawless persons in the Qianshan District CCP committee and government were afraid of the truth being let out. So during the litigation period, they cremated Mr. Sun's body without authorization.
Both the municipal and district level procuratorate kicked the ball back and forth, refusing to accept the case or conduct any investigation. Only after one and a half month of numerous appeals by Mr. Sun's family members did the Qianshan District Procuratorate accept the case reluctantly. But they didn't try to find out the truth. Instead, they bent the law and shielded one another with the Qianshan Police Department. They even colluded with medical examiners to hide the truth. Qianshan District Political and Judiciary Committee Secretary Zeng Xianming, chief prosecutors Xu Xiujuan, Shen Zhiqi and Li Mingjie, etc, together with the city procuratorate and other related department heads collaborated with one another to protect the perpetrators and bury the crime.
In addition, Qianshan District Political and Judiciary Committee and the Police Department dispatched personnel to threaten, intimidate, monitor and follow Mr. Sun's family members, putting their personal freedom and safety at stake. Sun Yonghai and Sun Yongjiang, two sons of Mr. Sun went to Beijing to appeal for their father. But the Anshan City Police Department fabricated various false charges and sent them both to one year and nine months of forced labor. They still suffer in the labor camp today.
Responsible parties:
Political Security Section of Qianshan Police Branch: 86-412-2312237
Political Security Section Head Zhang Chengguo: 86-412-6300388 (Home), 86-13304203199 (Cell)
Qianshan Branch of Anshan Police Department: 86-412-2312257, 86-412-6962066
Qianshan District People's Procuratorate:
Chief Prosecutor Office: 86-412-2312408, 86-412-2318183, 86-412-2313345
Deputy Chief Prosecutor Office: 86-412-2313395, 86-412-2312212