Mississippi, U.S.A.: Human Rights Rally on Campus of Mississippi State University (Photos)
December 06, 2007 | By a practitioner from Mississippi
(Clearwisdom.net) On December 1, 2007, the Coalition to Investigate the Persecution of Falun Gong (CIPFG) held a rally on the campus of Mississippi State University to announce the Human Rights Torch Relay. Local Falun Gong practitioners attended the rally. One of the purposes of the rally was to further expose the Chinese Communist Party's (CCP) organ harvesting from living Falun Gong practitioners.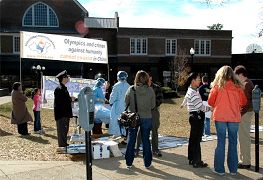 The human rights rally
Students sign their names to support Falun Gong
At the rally site, the organizers hung up a big banner which read, "Olympics and Crimes Against Humanity Cannot Co-exist in China." Many people were shocked by the re-enactment of the organ harvesting of living Falun Gong practitioners. The local newspaper, Starkville Daily News, reported on the event. A city council member and a government official attended and gave speeches.
City council member giving a speech
A city council member said in his speech that the human rights violations in China has impacted the U.S. He said that the persecution of Falun Gong is a persecution of the whole world. He called upon American government officials and congressmen to stand up and condemn the persecution.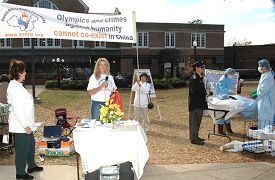 The mayor's assistant giving a speech
The mayor's assistant gave a speech at the rally. She said that the organ harvesting is not just an atrocity: "It is evil." She said that she was very sad to hear about the persecution, but was glad that the rally was being held so that more people would know about the persecution. She wore a T-shirt with the words, "Olympics and Crimes Against Humanity Cannot Co-exist in China."
Many students stopped by and signed their names on a petition to condemn the persecution. Some of them said that economic development in China and business collaboration between China and other countries should not be prioritized over human rights. They said that the international society should exert pressure on the CCP to improve the human rights situation in China.