Norway: Artwork Exposes Persecution to Health Expo Attendees (Photos)
(Clearwisdom.net) From November 16 to 18, one of the largest health expos in Europe was held in Oslo. Falun Gong practitioners participated in this event. About 15 to 20 thousand people visited the expo, and many people stopped at the practitioners' booth to learn about Falun Dafa and the persecution happening in China.
At the Falun Gong booth, through watching a truth-clarifying video and/or chatting with practitioners, many expo attendees learned about Falun Dafa and the principles of "Truthfulness-Compassion-Forbearance", as well as the amazing health-restoring effects of the practice. They also learned that the Chinese Communist Party (CCP) started to persecute Falun Dafa in July 1999 despite the fact that the practice is beneficial to society and apolitical.
At the booth, practitioners also displayed three paintings selected from the "Truthfulness-Compassion-Forbearance" International Art Exhibit: "In Harmony," "A Tragedy in China," and "Faith Unchained."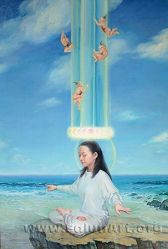 "In Harmony"
"In Harmony" depicts a wonderful realm which practitioners can reach through cultivation. At a certain level, three beautiful flowers in another dimension form above the practitioner's head.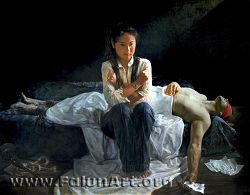 "A Tragedy in China"
"A Tragedy in China" depicts the overwhelming sorrow and pressure that a young woman experienced after her husband was tortured to death for refusing to write a statement to renounce Falun Gong. Meanwhile, the painting also depicts the courage Falun Gong practitioners have demonstrated during the brutal persecution.
"Faith Unchained"
"Faith Unchained" depicts a true story experienced by the artist herself. The artist was once detained in China for her belief in Falun Dafa. While handcuffed and locked in a dark cell, she was fearless and her heart was filled with hope and compassion because of her unshakable faith in the universal principles of "Truthfulness-Compassion-Forbearance." She felt that she was protected by countless high level beings at every moment.
The paintings and the stories behind them were very inspiring to visitors of the Falun Gong booth.
The practitioners also offered free Falun Gong exercise instruction in a reserved room each day of the expo. The class was very popular and highly appreciated. Many visitors told the practitioners that they had purchased Falun Gong books and exercise instruction videos and that they enjoyed doing the exercises.
During the expo, a number of reporters interviewed the practitioners as well.