Missionary: "What Moved Me the Most Were the Performances About People's Beliefs" (Photo)
(Clearwisdom.net) Ms. Xiong Ying, a Christian missionary, attended the Holiday Wonders show on December 23, 2007, in Greensboro, North Carolina. She said what moved her the most were the performances that dealt with people's religious beliefs. She could not stop her tears.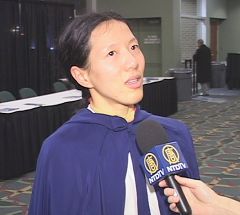 Xiong Ying said she could not hold back her tears as she watched the performances that dealt with religious beliefs
Xiong Ying came from mainland China and has lived in the US for over 12 years. She said that she saw the news about the show in a Chinese newspaper and also had heard that a Korean had high acclaim for the show, saying that it was exceptionally beautiful, especially in its portrayal of the communication between humans and gods and human beings' reverence for gods. She immediately decided to attend.
When the curtain rose, the majestic scene of the first performance "Creation" unfolded in front of the audience. Ms. Xiong had to keep wiping her tears from her cheeks. During the break after the first half of the show, when asked what she thought so far, Ms. Xiong commented, "The standard of the performances was quite high, particularly the piano and the soprano. But what moved me the most was the piece concerning religious beliefs. I could not hold back my tears. It truly expressed the feeling of one's inner soul and was very touching. It was truly beautiful and transcendent.
"The dance performance 'The Fruits of Goodness' was particularly beautiful. Also, many performances in tonight's show seemed to express people's pursuit of their religious beliefs.."
Ms. Xiong said she really liked the dance "The Risen Lotus Flower" that portrayed persecution by the CCP. "Even though people are subjected to the persecution in this world, they are highly rewarded in their spiritual world. It was spiritually uplifting and an enlightenment. You find the strength, peace, and blessings that people obtain in their spiritual world exceed everything else in this world. They enable you to withstand persecution."
Xiong Ying said she would recommend the show to others. She said, "I feel a person of any religious belief would be very much moved to see these performances."