Holiday Wonders - A Gift from Heaven (Photos)
December 22, 2007 | By Rong Xin
(Clearwisdom.net) My family and I watched the first of this season's NTDTV Holiday Wonders shows. From beginning to end, it seemed that we were on a marvelous trip. Each performance of the evening flowed smoothly from one to the next, and each brought a new angle and unique way to integrate Chinese culture and Western classical arts. The scale was immense and the inner meaning was rich.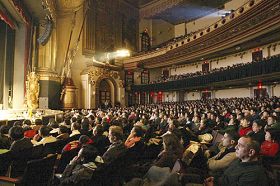 When the curtain opened for the first performance, a beautiful scene was presented. This performance made one feel as if in a heavenly world and allowed us to experience almost first-hand an ancient myth from long ago.
The evening's hosts, a Chinese woman and a Western man, provided continuity between the numbers with stories and legends, and gave insights to help the audience more fully experience genuine Chinese culture. The Western host spoke fluent Chinese. There was a warm interaction between the hosts and the audience, with no feeling of distance.
The audience applauded enthusiastically throughout the evening. The performance, "Tang Dynasty Drummers," by a group of young men, won applause again and again. When the dance, "The Power of Awareness" depicted a scene in which onlookers step forward to stop the persecution of a Falun Gong practitioner, the whole theater erupted in applause.
After the show was over, I was reluctant to leave and wished to see it all over again.
I found Holiday Wonders to be a spiritual cleansing. Even my sore throat, which was bothering me before the show, was healed by the time I left the theater. This presentation of genuine traditional culture, music and dance inspired my spirit and soothed my body.