California: Falun Gong Practitioners Participate in the Newark Annual Parade (Photos)
September 22, 2006 | By Minghui reporter Huang Kaili
(Clearwisdom.net) To celebrate the 51st birthday of Newark, California, the city government held a parade on September 16, 2006. More than eighty groups took part. Falun Gong was also invited. It was the seventh time that Falun Gong practitioners had participated in this parade. The Western US Divine Land Marching Band attended the parade for the first time. Their performance was welcomed by spectators and organizers.
| | |
| --- | --- |
| Falun Gong group | Divine Land Marching Band |
| | |
| --- | --- |
| Exercise demonstration | Young practitioners |
Spectators enjoyed the performance by the Divine Land Marching Band
The Divine Land Marching Band performed "Falun Dafa is Good," "America, the Beautiful," and other songs. Their performance amazed the spectators. After the band, there were Falun Gong exercise demonstrations and dances performed by young practitioners, which were also warmly welcomed by the spectators.
Jim Reese, one of the organizers, said, "The performance by Falun Gong practitioners was excellent. They even have a band this year. The spectators like them very much."
Alan Nagy, a Newark city council member, said that the Falun Gong group was excellent and they have been well trained. He thought that the Falun Gong practitioners contributed a lot to the parade.
An older man said that he had just come back from Shanghai. In China, he didn't see Falun Gong, but he saw Falun Gong here. He said that Falun Gong is good.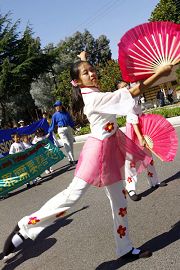 A young practitioner dancing
Cathy, a Chinese-Vietnamese, said, "Falun Gong has been in our community for many years. We all think that they are good. I like this group. I remember the first time they attended this parade, they only had the exercise demonstration. Later, they added more and more performances, including the celestial maidens dancing. This year, they had a band. That shows that the Falun Gong group is developing."
Cathy also feels that the Communist Party is evil and brings disaster everywhere. She knows about the persecution of Falun Gong in China, and condemned it, saying that it must stop soon.