Germany: German Mainstream Media Reports Persecution of Falun Gong During Wen's Visit (Photos)
September 22, 2006 | By a German Falun Dafa practitioner
(Clearwisdom.net September 15, 2006) On September 14, 2006, German state-run TV station ZDF during its 5 p.m. newscast reported Falun Gong activities during Wen Jiabao's visit to Hamburg, Germany. Falun Gong practitioners held activities in downtown Hamburg to expose the Chinese Communist Party's (CCP) persecution of Falun Gong. There were also TV broadcasts of scenes of the anti-torture exhibition in which a female Falun Gong practitioner was being "imprisoned in a cage" and "organs were being harvested from live Falun Gong practitioners by the CCP."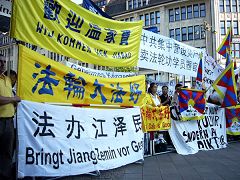 On the afternoon of September 14, Falun Gong practitioners gathered in front of the Hamburg City Hall to protest the CCP's persecution
One hour later at 6 p.m., an exclusive newscast extra of RTL, the biggest private TV station in Germany, reported the activities held by Falun Gong and other groups to protest the CCP's human rights violations during Wen's visit to Hamburg. When being interviewed, Liu Wei, a Falun Gong practitioner, described her personal experiences of being persecuted in a forced labor camp in China just because of her practicing Falun Gong. The report said that when Wen Jiabao and the Chinese officials entered the City Hall, Falun Gong practitioners made their protest against the CCP's human rights violations known to Wen.
At 8 p.m., German NDR TV station also broadcast Falun Gong practitioners' activities held in Hamburg. In the broadcast there appeared the corpse of a Falun Gong practitioner who had been tortured to death. The report said that German Chancellor Angela Merkel emphasized China's human rights violations, lack of freedom of the press and intellectual property problems during her talks with Wen Jiabao.