Eight Falun Gong Refugees Arrive in New Zealand (Photos)
September 18, 2006 | By a practitioner from New Zealand
(Clearwisdom.net) On September 14, 2006, with help from the Office of the UN High Commissioner for Refugees and the New Zealand government, eight Falun Gong refugees from Thailand arrived at Auckland Airport in New Zealand. The local Falun Gong practitioners welcomed them at the airport. Before these eight practitioners' arrival, the New Zealand government had already accepted five Falun Gong refugees.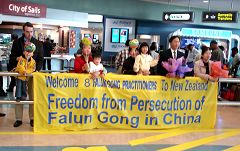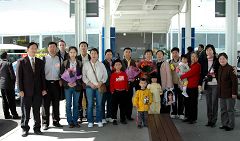 Falun Gong practitioners from Auckland welcome eight refugees at the airport.
Zhang Hanwen (left) finally reunited with her daughter He Yanchen (right). But her husband, He Sanpu is still jailed in China.
Zhang Hanwen was sentenced to 2 years and 3 months in a labor camp because of her belief in Falun Gong. She has been arrested and jailed many times in China. In the labor camp, Ms. Zhang was tortured, and her arm was injured. Finally, she was reunited with her daughter, He Yanchen, in New Zealand.
Lu Changliang, a Falun Gong practitioner from Shenyang, was tortured in the Masanjia and Longshan Labor Camps. Her mother, Shi Shengyin, was persecuted to death because of her steadfast belief. Ms. Lu, her husband, her son, and Lu Tianjiao, an orphan that her mother adopted, all left China for New Zealand.
Zhang Huamin and his family were persecuted by the Chinese Communist Party because of practicing Falun Gong. They were forced to leave their home and became homeless in China. Finally, they found a chance to escape from China and were able to come to New Zealand.