Investigation Leads: Shijiazhuang City No.1 Hospital Completes Five Kidney Transplants in 10 Hours
(Clearwisdom.net) Since the Chinese Communist Party's inhumane and criminal practice of harvesting organs from live Falun Gong practitioners and then cremating their bodies was exposed, the Falun Dafa Association and Minghui website [Chinese version of Clearwisdom] founded "The Coalition To Investigate the Persecution of Falun Gong On-site in China" on April 4, 2006. The coalition calls for people from all walks of life and any organization to form a united investigation group, and to gather possible leads for investigation of illegal organ harvesting. The following are some leads we obtained recently. We hope all kind-hearted people who have special knowledge about such activities will assist us continue to expose the inside stories of labor camps, prisons, and hospitals in China that are colluding with each other to persecute Falun Gong practitioners. Together we are striving to end the persecution.
Lead 1. Shijiazhuang City No.1 Hospital Completed Five Kidney Transplants Within 10 Hours
We found a report entitled, "Five Kidney Transplants in 10 Hours," in Shijiazhuang City No.1 Hospital's newspaper reported by Mr. Li Lei, a staff reporter for the hospital. (Page 2, Issue 51, August 1, 2006)
The following are excerpts from the report:
"From 3:00 p.m., July 17 to 1:00 a.m. the next day, our hospital's No.3 Surgery Department and Urology Surgery Department successfully completed five kidney transplants using kidneys from donors with matching HLA. The five kidney recipients all suffered from uremia and are all in their 40's. They came from Gaocheng, Zhengding and Xinle."
At 8:10 a.m., "Vice President [of the hospital] Mr. Zheng Zhimin coordinated medical staff members from the No.3 Surgery Department, Urology Surgery Department, Anesthesia Room and Operating Room to procure kidneys from out of town. Around noon, they came back with kidneys. Immediately after their long, exhausting trip, the anesthetists and nurses started to prepare for the transplant operations."
At 2:45 p.m., "they started the first kidney transplant. Chairman of Urology Surgery Department Mr. Pang Shujian performed the surgery. The patient was a 49-year-old uremia patient."
At 3:05 p.m., "the kidney was brought into the operating room. The renal veins, renal arteries and ureter were attached to the kidney. It was soaked in water, looking slightly pale. There were knots tied at the ends of the renal veins and arteries."
At 3:45 p.m., "another patient was brought into the operation room. This time Chairman of No.3 Surgery Department Mr. Zhang Guoquan performed the surgery. The patient was a 40-year-old uremia patient from Gaocheng." At 6:30 p.m., the transplant was completed smoothly.
"In the following seven hours, Chairman Zhang Guoquan completed three additional kidney transplants. The patients were a 39-year-old female patient and two 38-year-old male patients with uremia."
At 1:25 a.m., "after nearly 10 hours of continuous battle, the last kidney transplant was completed."
"Since the first kidney transplant in June 2002, our hospital has completed nearly 70 kidney transplants. Four of the kidneys came from the patients' family members. The results of the kidney transplants have been satisfactory."
Questions raised from the report:
1. It took as little time as four hours round trip (from 8:10 a.m. to around noon) to pick up five kidneys from out of town. Where on earth did they procure the five kidneys? Moreover, since the renal veins, renal arteries and ureter were attached to the kidney, surely the "donors" wouldn't have been able to survive unless they could live without kidneys and ureters.
2. Vice President of the hospital Mr. Zheng Zhimin coordinated medical staff members from No.3 Surgery Department, Urology Surgery Department, Anesthesia Room and Operating Room to procure kidneys from out of town. The fact that anesthetists had to come along means that they removed kidneys from living donors. Then why didn't they bring the donors to the hospital? Why did they have to remove five kidneys together from out of town and bring them back to the hospital? It is possible that there might be a concentration camp imprisoning Falun Gong practitioners near the hospital and the five kidneys came from imprisoned Falun Gong practitioners.
If it is true that they removed the kidneys from living Falun Gong practitioners, the hospital's Vice President Zheng Zhimin and all the involved personnel are either perpetrators or accomplices in these murders, and they should face all legal consequences.
3. The hospital claims to have completed nearly 70 kidney transplants, while only four kidneys came from patients' family members. Where did the other 66 kidneys come from?
Photograph of the report: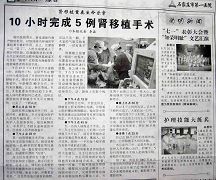 Lead 2: Two Concentration Camps in Lanzhou and Tianjin That Imprison Falun Gong Practitioners
Because two local Falun Gong practitioners were illegally arrested, I learned of two concentration camps where practitioners are imprisoned.
Mr. Zhang Haibo, 28, is a Falun Gong practitioner in Henan province. After he graduated from college in September 1999, he was assigned to work as a mathematics teacher at the Tankman Engineering School of the People's Liberation Army. In 2003, the army illegally sentenced him to three years in a forced labor camp because he was found in possession of Falun Gong truth-clarification materials. He was imprisoned in a military facility in Lanzhou, Gansu province that imprisons Falun Gong practitioners exclusively. No one has heard from him since.
I only know the mailing address of the camp: 52 P.O. Box 44, No. 27 Branch of Lanzhou City Post Office, Lanzhou City, Gansu Province, Zip code 732750
Mr. Zhang Yongqi, in his 40's, is a Falun Gong practitioner and a professional painter from Shaanxi Province. He lived in Fengtai District, Beijing. On February 26, 2005, he was illegally arrested while meeting with over ten fellow Falun Gong practitioners in a practitioner's home in Doudian, Fangshan District in Beijing. They were taken to Fangshan Detention Center in Beijing. In January 2006, Zhang Yongqi was illegally sentenced to eight years in prison. On April 5, 2006, he was sent to Qianjin Prison in Qinghe Farm, Chading, Jingshan Line, Tianjin City. He is still imprisoned there.
It is alleged that, among the over 1,000 detainees at Qianjin Prison, 70% are Falun Gong practitioners from Beijing. Qianjin Prison is administered by Beijing. Because the number of practitioners imprisoned in Beijing has exceeded the capacity of Beijing's detention facilities, they imprison some Beijing practitioners in Qianjin Prison. There is even a direct phone line to Beijing. A detainee's family provided this phone number: 86-10-83589496.
Lead 3: Inner Mongolia Hospital Now Does Kidney Transplants
According to patients' family members, Inner Mongolia Hospital has begun to perform kidney and skin transplants. The physicians told patients that the kidneys come from young, healthy prison inmates. Many patients are lining up for kidney transplants. It costs 50,000 to 80,000 yuan to have a kidney transplant.