Remembering Falun Dafa Practitioner Wang Hongbin -- Before the Persecution Began (Photos)
July 27, 2006 | By a Falun Gong Practitioner in Mainland China
(Clearwisdom.net) The groundless persecution of Falun Gong has lasted over seven years now. The persecution dragged too many practitioners to count into unspeakable suffering since July 20, 1999. Following is the plight of one of these brave people who stood up for his beliefs.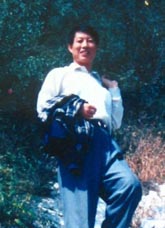 Falun Gong practitioner Wang Hongbin passed away on October 9, 2003 after two years of physical and mental torture at a labor camp
Wang Hongbin's whole family in Shijiazhuang City, Hebei Province was subjected to continuous persecution because they were steadfast in their practice of Falun Dafa after it was banned by the CCP in China. Early in the morning on July 20, 1999, Wang Hongbin and his wife were both arrested illegally. Their home was ransacked five times. They eventually were arrested a total of six times, and their family was broken up. Mr. Wang went into exile to avoid persecution. He was subsequently beaten, tortured and sent to labor camp(s). He passed away on October 9, 2003.
Wang's sister-in-law Feng Xiaomin lived in exile for a long time and suffered greatly. She died on June 1, 2004 from encephalitis, although the doctor suspected that she had been struck on the head. Wang's brother-in-law has not been heard from, even now. His father-in-law fell ill from grief after losing several family members and constant police harassment. He died from liver cancer on March 1, 2005.
Right now, Wang Hongbin's wife Feng Xiaomei is left with the responsibility to care for their son and for Tianxing, her sister Feng Xiaomin's son. Under the CCP's brutal policy against Falun Gong, three members of this family passed away within 18 months. A once happy family is no more. Feng Xiaomei said, "I can't believe such tragedy would happen in today's civilized world. I often feel like I'm living inside a nightmare and I just can't accept it."
This is only one case history of the cruel persecution of Falun Gong practitioners.
Happy family before July 20, 1999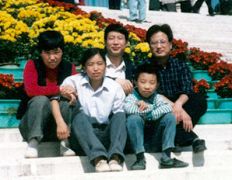 Wang Hongbin and his family, his sister-in-law Feng Xiaomin and her family
Before July 20, 1999, Wang Hongbin and his family lived a happy life. Wang Hongbin loved to help people and worked hard. He was awarded the title "Outstanding College Graduate Within the Postal System." His storeis were recorded in "The Annals of the Hebei Telephone Equipment Factory."
Wang Hongbin attended Mr. Li Hongzhi's March 3, 1994 class in Shijiazhuang City. After he started practicing Falun Gong, he learned many principles about life and quickly regained his health. He felt that Falun Gong's principles, Truthfulness - Compassion -Tolerance, contain the truth he has been seeking his whole life. He decided to strictly conduct himself according to these principles and cultivate until the end.
Wang Hongbin volunteered to teach others the Falun Gong exercises and helped other practitioners to buy Falun Gong books. His home became a site for group exercise practice and study sessions of Falun Gong books. He bought a cassette player with his own money and donated for the use of it to other practitioners. He later volunteered as an assistant at the Shijiazhuang City Falun Gong practice site with consent from other practitioners and helped organize new practitioners to study the Falun Gong books and do the exercises.
Many new practitioners went to the practice site before the persecution--new people joined nearly every day. Wang Hongbin patiently taught them the exercises and answered their questions. They loved sitting around him and sharing their understanding and experience with him. His wife also practiced Falun Gong, and their son then was around five years old. Wang Hongbin and his family went to the practice site every morning with a cassette player to do the exercises.
Wang Hongbin left a deep impression on people who knew him because of his modesty, forgiving nature, consideration and helpfulness. Even police officers who watched him said, "Wang Hongbin is a really good person." After the news of his death from persecution spread, his colleagues, neighbors and friends who are not Falun Gong practitioners were grieved. His younger sister cried at his funeral and said, "Why are they [wicked Party] so cruel? My brother was kind toward everyone; he was a good person!" Wang Hongbin gave up his apartment to an older colleague who cried out loud upon hearing about Wang Hongbin's death. The families of other Falun Gong practitioners also had great respect for Wang Hongbin and other practitioners especially miss him.
The Persecution Begins
Around 3:00 a.m. on July 20, 1999, more than 20 police officers took away Wang Hongbin and his wife; only their ten-year-old son was left home. Another four Falun Gong practitioners who had volunteered at the practice site were arrested at the same time..
Wang Hongbin was secretly held in a detention room at the Shigang Street Police Department for more than 50 days. Agents from a Special Case Group interrogated him nonstop. They later released him after extorting 200 Yuan and charging him with "disturbing the social order." This charge became an excuse for further persecution.
Because Wang Hongbin was an assistant at the practice site, the CCP treated him as an important target to monitor. The Party threatened to carry out arrests if more than three Falun Gong practitioners got together, because it's considered "illegal gathering." Wang Hongbin and his wife were two people, and if a friend who is also a Falun Gong practitioner went to their home, the CCP would consider it to be illegal gathering. So, the other practitioners rarely visited them at home in order not to implicate them.
Because of the CCP's rule of terror, police officers and officials from the street Party Committee and office often phoned Wang Hongbin, although they clearly knew that he was a good person. Criminal police officers harassed Wang Hongbin at home and forbade him from leaving Shijiazhuang City on holidays. Visiting his hometown and taking his son on trips became impossible for Wang Hongbin.
At the end of June 2000, another so-called "sensitive day" was approaching. Their employers put the pressure on, and Wang Hongbin and his wife eventually lost their jobs. The employer also coerced them to "repent" and write a guarantee statement to give up Falun Gong. They gave the couple only 300 Yuan. Wang Hongbin and his wife had no choice but to quit their jobs and find other employment.
Wang Hongbin was arrested on a train in September 2000 for reading a Falun Gong book. The police found truth clarification materials on him and sent him to several different police departments. They released him after about five days of detention.
Torture and death
During the long holiday of October 1, 2000, the civil police, the criminal police and street Party Committee officials again harassed Wang Hongbin at his home and tried to take him away. He firmly resisted the persecution and they couldn't take him.
On December 5, 2000, Wang Hongbin was arrested from home by a dozen plainclothes police officers who ransacked his home in such villainous manner that Wang Hongbin's mother-in-law shook in fear and could not move. (After the incident, the old woman's heart sped up and her knees went weak whenever someone knocked on the door). Wang Hongbin was taken to a hotel, where he was verbally assaulted, savagely beaten, force-fed and was handcuffed behind his back. He was later sent to the Shijiazhuang City Forced Labor Camp.
Wang Hongbin was physically tortured and mentally tormented at the Shijiazhuang City Forced Labor Camp. He was forbidden to sleep for a long time. The guards ordered the inmates to burn off his fingernails from the root. He was handcuffed to metal bars by one hand for three days and three nights. The inmates would receive sentence reductions by brutally torturing Falun Gong practitioners. Those inmates assigned to watch Wang Hongbin were vehement and followed him everywhere, including the restroom. It was probable Wang Hongbin might be sent to the Strictly Controlled Group at any time, so Wang Hongbin lived under great pressure and depression for a long time. He suffered tremendous mental trauma. His health declined by the day. The labor camp authorities didn't permit his release on medical parole and only released him when his life was in danger. He passed away from long-term persecution.