South Africa: University Faculty Members and Students Condemn CCP Atrocities (Photos)
(Clearwisdom.net) From May 8 to 13, Falun Gong practitioners held a week-long photo exhibit in the Kwazulunatl University library to expose the Chinese Communist regime's brutal persecution of Falun Gong and the recently exposed atrocities of harvesting organs from living practitioners.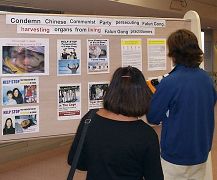 Photo exhibit in Kwazulunatl University Library
Seeing photos of practitioners subjected to inhumane torture, university faculty members and students expressed their sympathy and support for Falun Gong and condemned the Chinese Communist regime's atrocities.
"What can we do to help Chinese people end the atrocities and end the persecution?" This is the most frequent question raised during the exhibit.