New Zealand: Hastings Welcomes "Falun Dafa Practitioners Validating the Fa Photo Exhibition" (Photos)
March 17, 2006 | By a Falun Dafa practitioner in New Zealand
(Clearwisdom.net) On March 8, 2006, "Falun Dafa Practitioners Validating the Fa Photo Exhibition" moved to the bustling streets of Hastings, New Zealand. March 8 was Women's Day, so there were many local women's groups demonstrating their works, accompanied by upbeat music on the other side of the street. But on this side, pictures of Falun Gong practitioners being tortured and murdered gave witness to the facts of how the Chinese Communist Party is torturing Falun Gong practitioners.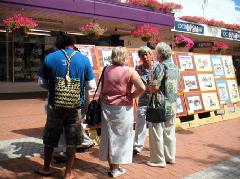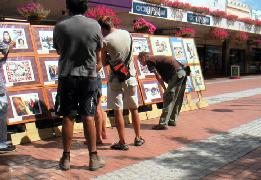 Many people came to view the photo exhibition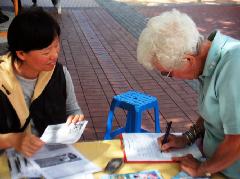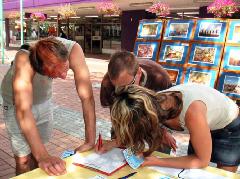 Visitors sign their names to support Falun Gong
The photos of policemen viciously beating peacefully protesting Falun Gong practitioner on Tiananmen Square surprised the local residents. They said, "Tiananmen Square, I know, that is the place where the Chinese army killed the students. More than a decade has passed, are they still killing people there?" The Falun Gong practitioners clarified the truth to the people about how Falun Gong's peaceful appeals in China resulted in practitioners being arrested. People were so shocked and said, "Oh, my God! Oh, my God!"
Many people who viewed the photo exhibition signed their names in support of Falun Gong and wrote down their feedback. One young man said, "I will tell my Taiqi master and let him know about it." A woman asked, "Is there an exercise practice site here?" In the message book people wrote, "Hastings welcomes you. Please come here often." "Never give up your pursuit of free expression." "God bless you." "Very moving...."