Boston Practitioners Protest Singapore's Abuse of Law to Persecute Falun Gong (Photos)
December 11, 2006 | By a practitioner in Boston
(Clearwisdom.net) On December 8, 2006, Boston Falun Gong practitioners held a peaceful protest in front of the Boston Branch of Singapore's Economic Development Board over a Singapore court's unjust ruling against two innocent Falun Gong practitioners. The Singapore regime is aiding the CCP for economic interests and ignoring human rights.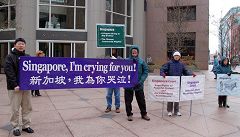 Practitioners hold banners to explain the facts in the cold weather
Practitioners distribute flyers to people entering and exiting the building
The assistant at the Singapore Economic Development Board was reluctant to meet practitioners. One practitioner managed to go to his office via security personnel. The practitioner explained the facts, handed over a protest statement and requested the board to forward it to the Singapore government. The practitioners requested the Singapore government to withdraw the charges and release practitioners Ng Chye Huay and Erh Boon Tiong. The protest statement was also faxed to the Boston Globe, Boston Herald, TV Channels 4, 5, 7, New England TV and many radio stations.
The Boston Branch of the Singapore Economic Development Board is located in Boston's financial center. Many people entering and exiting the building could see the practitioners' banners worded "Singapore, I am crying for you", "Singapore court: infringe human rights, unlawfully imprisons Falun Gong practitioners", "Singapore court: forgets justice in the face of commercial interest and assists CCP to persecute kind people". Many people accepted flyers and came to know the facts. One person who works in the building, said that he was surprised that Singapore imprisons people without good reason. A democratic country should not allow such things to occur.