Canadian Officials Express Concern over Citizens' Privacy Being Violated by Chinese Spies (Photos)
June 20, 2005 | By a Minghui correspondent from Canada
(Clearwisdom.net) Recently, former Chinese police officer Hao Fengjun defected to Australia with a large amount of smuggled secret documents. The secret files indicate that Chinese communist regime operates espionage network to spy on Falun Gong practitioners outside China. After media revealed these documents, high-ranking officials of the Canadian government have expressed their concerns. The media in Canada are paying close attention to the situation, and to the persecution encountered by the Falun Gong group.
Officials are shocked: Canadian citizens don't have their privacy?
On June 16, during "question period" in the Canadian Parliament, MP Peter Mackay pointed out, "documents provided by Hao Fengjun, the former Chinese policeman and defector, show Chinese spies in Canada were targeting Jillian Ye, a Falun Gong practitioner and database consultant from Scarborough."
39-year-old Jillian Ye is Canadian citizen and a Falun Gong practitioner. In early 1990s, she studied at the University of Western Ontario and obtained a masters degree in computer science. She is now a database consultant.
A document dated September 1, 2004, entitled "intelligence 274(2003), series nkf03292" that Hao Fengjun provided, detailed Jillian Ye's plans to start a communications company and her budget to buy a house for her parents. Upon learning about this, Ms. Ye said when giving an interview, "My goodness! They (the spies) are so rampant in Canada? I don't know what to say!" She said, "It makes me wonder where they are getting their information and how closely they are watching us!"
According to a report from The Epoch Times, the document was addressed to a vice department head, delivered to the Ministry of Foreign Affairs in China.
On June 15, after Hon. Stephen Harper (Leader of the Opposition, Conservative Party of Canada) urged a crackdown on Chinese spies, Prime Minister Martin told MPs that he already raised this issue when he visited Beijing in January this year. Prime Minister Martin said, "It is also well known that Canada maintains a vigorous counter-intelligence program to safeguard Canada's security. It is also very clear and Canadians can rest assured that we maintain a very strong law enforcement and security system that will enable Canadians to be assured of their own protection and their own security."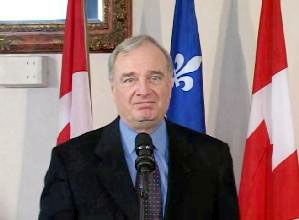 Canadian Prime Minister Paul Martin
Hon. Pierre Pettigrew, Minister of Foreign Affairs expressed that the Ministry of Foreign Affairs has been discussing with the Chinese officials to ensure that they respect Canadian citizens' rights to express their views in Canada. Pettigrew said, "we always take all of these allegations very seriously." He said, "We expect from them respect for our sovereignty. When they are here they are meant to respect our Canadian laws. When things are brought to our attention we refer them to the appropriate authorities in our country."
MPs suggests Canadian government put more effort to expel Chinese spies. Deputy Prime Minister encourages citizens to report on spies.
During "question period" on June 16, MP Stephen Harper pointed out, "For some time there has been growing evidence of a large spy network being operated in Canada by the Chinese government. Today the former head of the CSIS Asia desk confirmed reports from defectors that close to a thousand Chinese government agent spies had infiltrated Canada."
MP Peter MacKay pointed out a day earlier that according to Hao Fengjun, a former police officer and Chinese defector, China has more than 1,000 spies operating in Canada. He said that this indicated that the Chinese communist government is conducting a campaign of intimidation and harassment against Falun Gong practitioners, mainly in Toronto and Vancouver. He said that this action is consistent with a CSIS report that foreign intelligence services manipulate, threaten and exploit expatriates living in Canada.
MacKay said, "Mr. Hao claims that he has given a Chinese intelligence report about a Falun Gong practitioner in Canada to the Australian authorities." He asked, "Will our government request a copy of this report from Australia and will it make a formal request to the Chinese government to cease and desist in the harassment of Canadian citizens?"
MP. Rob Nicholson suggested to the government that they move beyond concern and start putting the time, effort and money into cleaning up this problem.
Anne McLellan, Deputy Prime Minister and Minister of Public Safety and Emergency Preparedness said, "We are well aware of Falun Gong and some of the allegations and assertions made in relation to their right to peacefully express their points of view and to peacefully associate and demonstrate in this country."
She said, "We are fully aware of the allegations that have been made in relation to the presence of some in this country who may be carrying on certain activities that are unacceptable. CSIS, the RCMP and regular law enforcement in this country are well aware.
When answering questions on June 16, McLellan said, "CSIS is well aware of the allegations that have been made. CSIS is doing everything that is necessary to ensure the collective security of Canadians."
She said, "I would suggest to the honorable member, if in fact he has evidence of harassment of any individual of whatever origin, he has a responsibility to provide that information to regular law enforcement authorities."
Evidence of China's persecution of religious freedom in Canada
During"question period" on June 16, MP Rob Nicholson said, "We have known for many years that China clamps down on the religious freedom and expression of people within in its own borders. Now we have evidence that it is trying to do the same thing here in Canada."
According to Hao Fengjun, those spying on Canadian Falun Gong practitioners are coded as F101. Their tasks in Canada include maintaining a name list of Falun Gong practitioners, harassing them, threatening them to cease their protests against the Chinese government's persecution and tapping their phones. Hao Fenjun revealed when giving an interview to this Minghui correspondent, "The Chinese communist government spent more than three years to set up this global network and it is very comprehensive and perfect. It is not only limited in Australia, it has infiltrated everywhere in the world including the U.S., Canada and Europe. I've even seen reports from Copenhagen, Denmark."
On June 17, the Canadian Falun Dafa Association held a press conference on Parliament Hill in Ottawa, the nation's capital. Seven Falun Gong practitioners who had been harassed bore witness. Their plights included: passport renewal requests rejected by the Chinese Consulate; requests of visas to visit China turned down; imprisonment when going back to China; discrimination against them in the local Chinese community; practitioners' family members in China receiving harassment and threatening phone calls; as well as evidence showing that the CCP manipulates Chinese media and Chinese organizations to control local Canadian Chinese communities and influence Canadian mainstream society. The president of Canadian Falun Dafa Association and another representative comprehensively answered reporters' questions during the 30-minute period.
More than 10 media outlets including Canwest Global, Canadian Press, the most influential Canadian TV stations CBC and CTV as well as Globe and Mail and the Toronto Star came to attend the press conference. China's espionage network has become a focal point in recent Canadian media coverage.