(Clearwisdom.net)
In recent months, production sites for
truth-clarifying
materials have been set up all across Northern China. We have witnessed significant improvement of the situation. Coordination and division of tasks have been smooth among different-sized sites. The growth in the number of publications has also been significant: the
Weekly Clearwisdom Newspaper
(Chinese edition); other truth-clarifying materials; the
Clearwisdom Weekly
(Chinese edition) for practitioners who do not have Internet access;
Zhuan Falun
for new practitioners; and supplementary documents helping people to withdraw from the Chinese Communist Party, the Youth League and the Young Pioneers. All materials are very popular, and we often experience shortages due to the great demand.
(Clearwisdom.net)
Villagers Rebuke Corrupt Officials
Officials in charge of a division of a village in Yingyang County, Henan Province, were planning to arrest a Falun Dafa practitioner in the village. When villagers heard of the plan, they argued with the officials, saying, "What's wrong with doing exercises and keeping fit? We will hold you responsible if anything happens to him." The officials were shamed into anger, "If we can't take him away today, we're going to call in county officials to handle this. Then we'll see what you do!" The villagers, who knew the truth of the persecution, solemnly told the officials, "If you dare to call in the county authorities, we're going to gather a hundred thousand residents in neighboring townships to settle the case with you in the county." The village officials left crestfallen.
(Clearwisdom.net)
Credit Union Director Realizes the Truth
A few days ago, a practitioner deposited some money at his credit union. Two days later the director of the credit union came to pay him a visit, and nervously told him that there was a mistake in the amount entered into his savings book. The amount should have been 2,000 yuan, but it was erroneously entered as 11,000 yuan, a net gain of 9,000 yuan for the practitioner. The practitioner brought out the savings book (which he hadn't checked after making the deposit), and found that the amount was indeed entered as 11,000 yuan. He told the director, "Yes, it was entered incorrectly. Don't worry. You can take the savings book back and correct the numbers." The practitioner also agreed to give the extra interest payment back to the credit union.
~ Accounts of Persecution ~
~ Falun Dafa in the Media ~
~ Rallies & Protests ~
~ Other Community Events ~
~ Journeys of Cultivation ~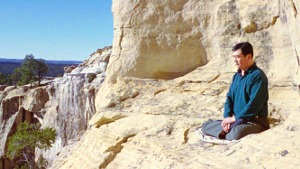 Master Li quietly watching the world from amidst the mountains after leaving New York following July 20th, 1999. (Published January 19, 2000)