Three Cases of Practitioners Missing in China ( Photo )
(Clearwisdom.net)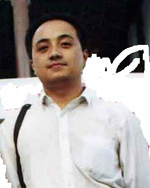 Falun Gong Practitioner Wang Jun from Hubei Province Has Been Missing Since October 2001
Mr. Wang Jun was born in February 1969 and lived on Daxia Street in the Jianghan District of Wuhan City, Hubei Province. Mr. Wang was an employee of the Wuhan City Gas Company. He obtained the Fa in March 1993 when Master held a seminar in Wuhan. At the end of 2000, Mr. Wang went to Beijing to appeal for Falun Gong and was illegally arrested. Later, he was sentenced to one and a half years of forced labor and sent to Wuhan City, Hewan Labor Camp, where he suffered inhuman persecution. In September 2001, Mr. Wang was released on bail for medical treatment and was taken home by his family members. After 10 days of treatment, he was able to walk by himself. That day he went out for a walk and never came back.
The physical and mental abuses Mr. Wang Jun suffered in Wuhan City's Hewan Labor Camp were reported on the Clearwisdom website in February 2003. In labor camps, the police often instigate the criminal inmates to beat Falun Gong practitioners and reward them with reduced sentences. Criminal inmate Fang Bin often led the beatings. He used his fists, feet, elbows and knees to strike practitioners in the vulnerable areas of their bodies such as the back and neck. Mr. Wang Jun was beaten at least two hours every day. Criminal Li Zhongqi said, "However intense is your pain, so too is my pleasure. I love torturing you each day."
Heilongjiang Province Practitioners Mr. Li Wen and Ms. Li Jingai (husband and wife) and His Mother are Missing Since 2003
Practitioners Li Wen and Li Jingai, a couple, and his mother are from Heilongjiang Province. The three family members went missing in February 2003. It was said that they were all sentenced to prison but no one is able to confirm the news.
Mr. Li Wen, 36, is from Mudanjiang City. His wife Ms. Li Jingai, 34 years old, is from Tonghua City. Mr. Li Wen's mother is 70 years old. Mr. Li Wen was a deputy manager in the Xingcheng Elevator Company in Xi'an City, Shaanxi Province. His wife and mother did not work, and the three of them lived in a rented house in Xi'an.
One night in February 2003, Li Wen called a fellow practitioner. He said that, when he got home quite late from work that night, his wife and mother were not there. He was guessing that they had gone out distributing truth clarification materials. The next day a fellow practitioner called Li Wen (86-133119240101), but no one answered his phone. This practitioner also called a friend of Li Wen's (86-13991316701), who said that Li Wen and his family had gone back to their hometown in Heilongjiang Province. That was not true. The three of them have been missing since then.
Later, fellow practitioners heard that Mr. Li Wen and Ms. Li Jingai had both been sentenced to four years in prison and that his mother had been released. Details about the name and location of the facility where the couple was imprisoned are unavailable.
Jilin Province Practitioner Ms. Wu Shijing Went Missing from Tiananmen Square in September 1999
Ms. Wu Shijing, 30 years old, was an employee of the Baishan City Hongqi Motel in Jilin Province. In September 1999, Ms. Wu went to Beijing to appeal for Falun Gong with fellow practitioners. They lost her on Tiananmen Square, and Ms. Wu has been missing since then. After waiting for Ms. Wu for four years, her husband, who has a six-year-old child, remarried in 2003.