(Clearwisdom.net) Clearwisdom correspondent Wang Ying reports from San Francisco: At noon on February 27, 2005, more than a thousand Falun Gong practitioners from around the world held a rally, "Facing Violence and Hatred with Compassion," at Union Square in San Francisco. They hoped to raise people's awareness of the persecution that is happening in China and together end the persecution. The persecution of Falun Gong practitioners has gained extensive attention of people from all walks of life. Members of U.S Congress and city and state council members came in person and gave speeches to urge the Chinese Communist regime to stop the persecution.
(Clearwisdom.net) It was Health Expo time again in Christchurch, New Zealand and the organizer gave us a booth with many conveniences. For example, we could use the space outside the hall to hold exercise demos. Our booth location was very good as it was on the way for visitors to view exhibitions, and practitioners could distribute truth-clarification literature. We placed a signature collection book in our booth to call for the New Zealand government to urge the Chinese government to stop the persecution. When everyone was busy introducing Dafa and explaining the facts, there were visitors coming to sign and it seemed that they already knew the facts. The practitioners enlightened that along with the fast progression of Fa-rectification, more and more people have come to know the truth. Dafa practitioners are one body; for example, some visitors signed and said to a practitioner, "We heard about the persecution of Falun Gong when we were in another country. We signed there and this time we want to support Falun Gong practitioners in New Zealand."
(Clearwisdom.net) At around 11 a.m. on Saturday, February 12, a few practitioners in yellow scarves gathered in Place Jean Rostand under a grey sky. By midday, the number of practitioners had increased dramatically, and onlookers had gathered to watch the waist-drummers rehearsing and female dancers in costume warming up.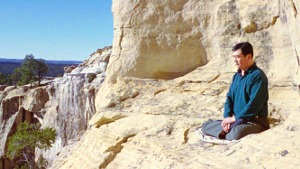 Master Li quietly watching the world from amidst the mountains after leaving New York following July 20th, 1999. (Published January 19, 2000)