January 31, 2005 Monday
Re: Former disciples renounce Falun Gong, Jan. 22.
Canadian practitioners of Falun Gong were deeply shocked and distressed to see this unfair and irresponsible article from The Associated Press reprinted in the Citizen.
(Clearwisdom.net)
A County Party secretary protects local Falun Gong practitioners
A 610 Office director from a Northeastern Chinese city was about to approach a subordinate county to carry out the so-called "Falun Gong work examination." After the County Party secretary learned about this, he first tried to postpone the visit, but later the 610 Office chief insisted on coming. So, the County Party secretary was indeed unable to delay the visit any longer. He immediately told his subordinate officials on various levels that if the people from the 610 Office came to their specific departments to examine their work, then they should just stall and head them off. This secretary and several other leaders who know about the truth of Falun Dafa have been protecting practitioners in various ways over the past five years of the persecution.
(Clearwisdom.net) From January 24 to 26, 2005, a three-day "Truthfulness-Compassion-Forbearance" International Art Exhibit was held in the Korean Parliament Building. This was the 11th stop of the exhibit tour, which provided a great opportunity for many Parliament members and officials to learn the truth about Falun Gong.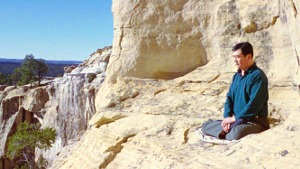 Master Li quietly watching the world from amidst the mountains after leaving New York following July 20th, 1999. (Published January 19, 2000)