Taiwan Falun Dafa Association Asks Argentina To Bring Assailants to Justice (Photos)
December 24, 2005 | By Yang Jia
(Clearwisdom.net) During China Politburo member Luo Gan's visit to Argentina, a gang of Chinese nationals were hired to beat up peacefully protesting Falun Dafa practitioners outside the National Congress building. Police on the scene didn't take any action to stop the assailants. On the afternoon of December 20, representative of Taiwan Falun Dafa Association, Professor Chang Ching-Hua, presented a protest letter to the Argentina Office of Commerce and Culture in Taiwan. The letter calls on Argentina as an independent free country to not sacrifice human rights and justice to become an accomplice to the CCP, and asks Argentina to investigate the incident and bring the assailants to justice.


Taiwan Falun Gong practitioners appeal outside of Argentina Office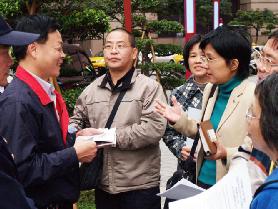 Representative from Taiwan Falun Dafa Association asks the secretary to convey the protest letter to Argentina Liaison Office in Taiwan
In the letter, Taiwan Falun Dafa Association stated that Argentina is an independent, free and constitutional country. The people have the right to express their opinions freely. But the police allowed thugs to assault people peacefully expressing their ideas. This gives the world a strong suspicion that the Argentina government surrendered to CCP pressure, and ordered their police to stand by while Chinese assailants beat up Falun Gong practitioners.
The Chinese Communist Party's human rights violation record is notorious. Its dictatorship over Chinese people won't last long. If Argentina has economical relations with it, Argentina should not sacrifice fundamental values, human rights and its constitution.
Falun Dafa Association put forth the following two requests to Argentinean government:
Immediately investigate and prosecute the assailants to maintain the country's image.

Since Argentine police allowed the attacks to continue unabated, a few Falun Gong practitioners and other Argentine citizens were injured. The Argentine government should publicly apologize to the victims and promise that such a thing will not happen again.
Chang called on the international community to condemn the CCP for extending violence overseas. Otherwise any country is under the threat.
Luo Gan is being sued for genocide and crimes against humanity in more than 15 countries, among them Chile, Bolivia, Peru, Belgium, Finland, Armenia, Moldavia, Iceland, Spain, Taiwan, Germany, Korea, Canada, Japan and Sweden. At the same time, Luo Gan is considered a person who is not welcome in Canada and the United States.
A police officer accompanied Professor to present the letter to the Argentine authorities. Later he said that Falun Gong was always peaceful everywhere in Taiwan. He also said he learned a lot after hearing the truth about Falun Gong.
Another police officer name Wu said that Taiwan police will not "take no action" at the violence like Argentina police and will not let violence happen in front of them.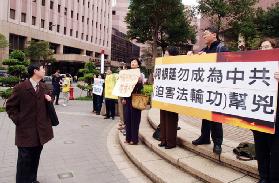 A passerby is looking at the banner in front of Argentina Liaison Office