South Korea: Practitioners Call on Argentina to Bring CCP Thugs to Justice (Photos)
December 24, 2005 | By a practitioner in South Korea
(Clearwisdom.net) On the afternoon of December 20, practitioners in South Korea held a rally in front of Argentina Embassy and issued a statement to protest the extension of CCP persecution to other countries, and the Argentina police's tacit consent of CCP violence. They called on Argentina Government to resist CCP pressure and bring CCP thugs beating Falun Gong practitioners to justice.
Korean practitioners hold a rally in front of Argentina Embassy
On December 14, 2005, practitioners held a rally on the square outside Argentina's Parliament and protested Luo Gan's visit to Argentina. Luo Gan is one of the prime culprits in the persecution of Falun Gong in China. One day before, local practitioners filed a lawsuit against Luo Gan for his crimes of genocide and torture in Argentina Federal Court.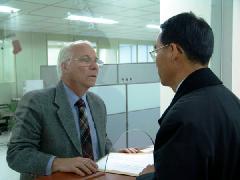 Associate Ambassador of Argentina Embassy accepts the solemn statement of Falun Dafa Association South Korea
When the practitioners unfurled banners to protest Luo Gan and CCP delegation on the square, thugs dispatched by CCP embassy brutally beat the practitioners, and snatched their banners and posters. Argentines who stepped forward to stop the violence were beaten to bleeding. Police on the scene did not intervene and were said to have orders to not intervene. The police did not take any of the CCP thugs into custody. Many reporters and local residents were present and saw the brutal violence.
Thus, Falun Dafa Association in South Korea issued statement requesting Argentina's Government and police to arrest the thugs and bring them to justice, to investigate the responsibility of the officials giving tacit consent to the violence, and to make arrangements to prevent the occurrence of similar incidents.
A spokesperson of the Falun Dafa Association in South Korea read out the statement in both Korean and English and handed in it to associate ambassador of Argentina Embassy.