(Clearwisdom.net)
Over the past few years the guards at Jinzhou Forced Labor Camp have been using extremely cruel types of torture to persecute Falun Dafa practitioners. In addition to various torture methods they commonly use to torment inmates, they have invented new barbaric torture methods specifically targeting Falun Dafa practitioners. Demonstrated below are some of these torture methods that they have used against the practitioners.
(Clearwisdom.net)
Ms. Xie Xiulan, a Falun Dafa practitioner from Liaoning Province, has been sent to forced labor camps twice during the last five years because of her belief in Falun Gong. She was detained for four years and four months in total, first at Masanjia Forced Labor Camp and then at Dalian Forced Labor Camp. She was tortured physically and mentally, for example by being hung up by handcuffs, confined in a small cell and forced to sit on an iron chair or stand continuously for eight days. Her legs were tied in a double crossed position with rope, and she was forced to write the three statements. Due to the torture, her weight dropped from 51 kg (about 112 lbs) to 40 kg (about 88 lbs), and she developed symptoms of an ovarian tumor. Ms. Xie escaped from the forced labor camp on July 19, 2005.
(Clearwisdom.net) Since October 1, 2005, Dafa practitioner Bai Shaohua, whose family members were arrested in Beijing, has been in severe danger after being punitively force-fed. He was sent to the public security department hospital for emergency treatment twice and his situation is extremely serious. Bai Shaohua's older brother Bai Xiaojun was persecuted to death in 2000.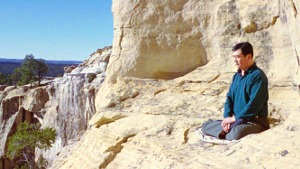 Master Li quietly watching the world from amidst the mountains after leaving New York following July 20th, 1999. (Published January 19, 2000)