Los Angeles: Rally Condemns the Rape of Women Practitioners by Chinese Police (Photos)
December 10, 2005 | By a practitioner in Los Angeles
(Clearwisdom.net) On December 7, Los Angeles practitioners gathered in front of Chinese Consulate to strongly condemn the rape of women practitioners Liu Jizhi and Han Yuzhi by Chinese police. Those at the rally demanded punishment of policeman He Xuejian and related persons and called on the international community to pay attention to the human rights of Falun Gong practitioners and help end the persecution.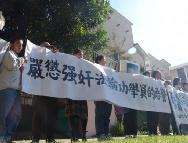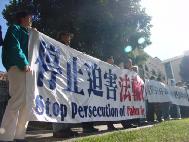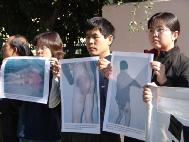 Banner in photo 1: Punish the policeman for raping women practitioners
The incident occurred on November 25. Policeman He Xuejian from the Dongzhengfang Police Substation in Zhuozhou, Hebei Province, China forcefully took practitioners Liu Jizhi (51 years old) and Han Yuzhi (42 years old) to the substation, brutally beat them and shocked them with an electronic baton. He then proceeded to rape them. After the rape, the practitioners were subjected to forced labor. The atrocious rape led to physical and mental suffering by the practitioners.
Several practitioners pointed out in their speeches that the incident was not an isolated case. Police atrocities were happening because of the Chinese Communist Party (CCP)'s policies in encouraging law enforcement officials and criminals alike to physically and mentally persecute Falun Gong practitioners. Though practitioners have been tortured brutally, including rape, sexual assault and disfigurement, so far no police have been punished. Instead, many policemen and guards have been rewarded for their role in the persecution.
Practitioners further pointed out that the persecution in China had lasted for more than six years and at least 2,790 deaths of practitioners due to police brutality have been documented. Among the deaths, 54.7% were women. Under the ruthless persecution policy, incidents of rape and sexual assault of women practitioners by police occurred frequently. The practitioners called on officials inside the Chinese Consulate to stop following the persecution policy.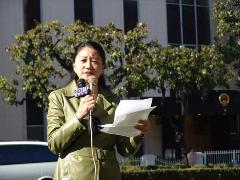 Practitioner Li Bin exposes the CCP's brutal and inhuman persecution with her own experiences
Li Bin came to the U.S. last year and exposed the CCP's brutal and inhuman persecution with her own experiences. After July 20, 1999, Ms. Li was sent to labor camps and mental hospitals. She experienced and saw the inhumane persecution. She was tortured to the brink of a mental breakdown.
Ms. Lin said, "Near 2,800 deaths of practitioners have been documented on the Minghui website. The actual death toll is most likely much higher. Four of my acquaintances were tortured to death. They are all women, including my friends Ding Yan and Sun Lianxia, my high-school teacher Zhou Jie and my classmate's mother Ma Yejin. Many friends were sent to prisons, labor camps, mental hospitals, and brainwash sessions. I recall that more than 1,000 practitioners were imprisoned in the Xinan Women's Labor Camp. The oldest one was in her 70's and the youngest one was only 18 years old. Under the instigation of the CCP, even criminals can beat practitioners at will. The practitioners were forced to knit sweaters under dim light. They were even tortured with electric baton shock, sleep deprivation and being locked in a tiny isolated cell."
Ms. Lin further pointed out, "In more than 2000 counties and cities in China, each area has a detention center, labor camp and prison. The CCP has fully mobilized the state machinery to persecute Falun Gong."
| | |
| --- | --- |
| Mr. Yinquan Liu, contact person for the Chinese Social Democracy Party U.S. West gives a speech | Mr. Pinchao Jiang from Chinese Overseas Free Poet Association gives a speech |
Mr. Yinquan Liu, contact person for the Chinese Social Democracy Party U.S. West, exposed the CCP's persecution in his speech, "The CCP does not admit to the persecution of Falun Gong, but it is occurring every day. In my hometown, Changyi, Shandong province, my high-school teacher Mr. Wu Dajun was tortured for persisting in practicing Falun Gong. He is a very kind man. He was retired. He was humiliated and paraded through the streets with a board hung from his neck. During last year's Spring Festival, he was forced to stand in front of the city government building with a board hung from his neck. Later he was sent to a mental hospital."
Mr. Liu pointed out, "The CCP has committed countless crimes. Only the end of the CCP's ruthless rule can ensure China's future."
Mr. Pinchao Jiang from the Chinese Overseas Free Poet Association gave a speech. He said that the rape was another crime that the CCP has committed against the Chinese people. The CCP is the source of Chinese society's many problems and the Chinese people's suffering. He called on everyone of conscience and who are yearning for a better life to step forward to get rid of the CCP.
Based on documented death cases on the Minghui website, there were 67 deaths of practitioners due to police brutality in Baoding City, where Zhuozhou is located. It was listed as number one in Hebei Province. There were 379 practitioners tortured to death in Hebei Province, the highest total for a province in China.