Israel: Practitioners Read Falun Dafa Association Announcement in Front of Chinese Embassy (Photos)
November 09, 2005 | By an Israeli practitioner
(Clearwisdom.net) On the morning of October 28, 2005, Falun Dafa practitioners in Tel-Aviv gathered outside the Chinese Embassy and read the Falun Dafa Association Announcement in Hebrew and English, respectively, which was published on October 9, to sternly advise those who have participated in the persecution of Falun Gong to immediately abandon their evil path and choose to be good.

A Falun Gong practitioner reading the announcement
Within a few minutes the scene was set: a small table with leaflets and petitions, stands with posters of the persecution, and banners. A female practitioner read the announcement in Hebrew, and a male practitioner read the announcement in English.
The event drew attention from passers-by who stopped and asked for more information. Some asked, "What do you want to achieve?"
A practitioner replied, "It is not that we want to achieve something, bur rather, we'd like to provide opportunities for those criminals who persecute Falun Gong practitioners to save themselves, because in the near future, all such criminals will be brought to justice and we would like to give them a chance to think it over and to correct their mistakes."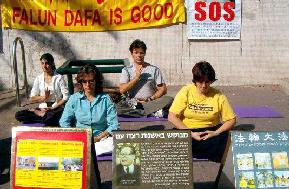 Before concluding the event, practitioners put the Chinese language version of the announcement in the Embassy's mailbox.