(Clearwisdom.net) Ms. Li Shuming is a Falun Dafa practitioner in the District of Lingbei in the City of Lingyuan (Liaoning Province). She has been taken away by the police many times for practicing Falun Dafa and sent to the local labor camp. Due to the severe torture she experienced, she lost her hearing four years ago, which has brought great suffering to her life. Ms. Li is in her 50's.
(Clearwisdom.net) I am Xie Wenrui. The officers from the Chigang Police Station in the Haizhu District, Guangzhou City illegally arrested my husband and mother-in-law last year. Below is my eyewitness account:
(Clearwisdom.net)
Falun Dafa Practitioner Chen Guizhen from Anyue County, Sichuan Province Disappeared Three Years Ago
Falun Dafa practitioner Ms. Chen Guizhen, age 65 with grey hair and 150 cm tall, lived in Village 5, Tongxian Township, Anyue County, Sichuan Province. In 2002, she said that the local police station might come to search her home. She wanted to go to Beijing to appeal for justice for Falun Dafa. Since then, nobody has known of her whereabouts. Chen Guizhen's husband and children have looked for her since that time. Her husband has vented his frustrations on local Falun Dafa practitioners and asked them for his wife. In reality, it was the Communist Party, Jiang's regime and its accomplices that caused Chen Guizhen's disappearance. They cruelly persecute Falun Dafa practitioners and torn apart countless families.
~ Accounts of Persecution ~
~ Journeys of Cultivation ~
~ Standing Up for Falun Dafa ~
~ Journeys of Cultivation ~
~ People in China Awaken to the Truth ~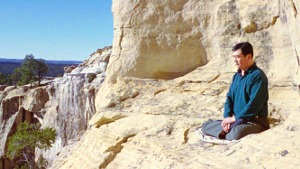 Master Li quietly watching the world from amidst the mountains after leaving New York following July 20th, 1999. (Published January 19, 2000)