(Clearwisdom.net) Ms. Qie Lili, a teacher from the Xili Elementary School in China, was arrested at the beginning of last year without reason. Currently she is being physically and emotionally abused in a forced labor camp.
(Clearwisdom.net) After Dafa practitioner Ms. Gao Rongrong was shocked and disfigured by electric batons and murdered, all the world was appalled by this atrocity perpetrated by the Chinese Communist Party. However, Ms. Dong Jingya, who once took care of Gao Rongrong after she had survived many tortures, is still being tortured.
(Clearwisdom.net) Mr. Ji Shuxian from Yanqing County in Beijing City was arrested and detained at the Tuanhe Forced Labor Camp in Beijing in 2001. Due to severe torture, he became mentally unstable and had great difficulty walking. Under enormous and constant pressure and harassment from the Qianjiadian 610 Office and the local police, Mr. Ji exhibited stroke symptoms. After two years of extreme physical agony, he died on September 22, 2005.
~ Accounts of Persecution ~
~ Deaths ~
~ Accounts of Persecution ~
~ April 25 Events ~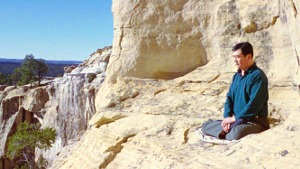 Master Li quietly watching the world from amidst the mountains after leaving New York following July 20th, 1999. (Published January 19, 2000)