After going through six years of brutal persecution, some practitioners consider themselves as divine beings already, but why are they still under persecution? Why can't they eliminate the evil? Some other practitioners consider themselves human beings and therefore lack the power to eliminate the evil. Indeed, what are we--humans or divine beings?
…
(Clearwisdom.net) Ms. Hu Zhehui, Mr. Hou Yunfei, and Mr. Xin Minduo and his wife Ms. Bao Juncen are Falun Dafa practitioners from Panjin City, Liaoning Province. It has been a month since these practitioners were illegally tried in court. To cover up the illegal behavior of the judicial system, the court did not issue verdicts right after the trial. They threatened the practitioners' relatives in order to stop them from appealing to higher courts. The sentences for the four are: Ms. Hu, 15 years in prison; Mr. Hou Yunfei, 14 years; Mr. Xin, 13 years; and Ms. Bao, 12 years. The sentences are the same as mentioned before the trials, proof that the court did not base its verdicts on any evidence presented at the trials. The trials were clearly just for show.
(Clearwisdom.net) Falun Dafa practitioner Ms. Jia Xiulan was 68 years old. On August 31, 2005, she was illegally arrested by the authorities and locked in a brainwashing class held in Tangshan City Textile University. On September 4, people heard that Ms. Jia died due to an unclear cause. Many of her family members went to ask for an explanation, and the lawless authorities then paid forty thousand yuan as compensation to her family.
(Clearwisdom.net) Ms. Yang Xingzhe, 38 years old, was a Falun Dafa practitioner in Hebei Province. After the persecution started on July 20, 1999, the police often ransacked her home, extorted money from her and intimidated her. In 2001 Ms. Yang was illegally sentenced to two years of forced labor for distributing Falun Dafa truth clarification materials and for hanging truth clarification banners. She was forced to do slave labor at the Balizhuang Forced Labor Camp in Baoding City and was also subjected to beatings and brainwashing. Ms. Yang had a cerebral hemorrhage and passed away on October 14, 2005.
~ Accounts of Persecution ~
~ Deaths ~
~ Accounts of Persecution ~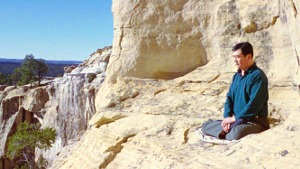 Master Li quietly watching the world from amidst the mountains after leaving New York following July 20th, 1999. (Published January 19, 2000)